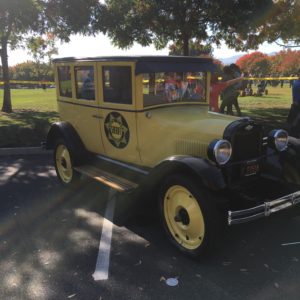 My good friend Tina came to town to run the Golden Gate Half Marathon and when she mentioned it to her friend Jerry, he invited us to the 2016 Heroes Run. Since Tina and I are both fans of the Rock 'n' Roll Remix Challenges, we figured we would create our own remix–good friends + good cause + excuse to wear a silly costume = great event, right? Game on.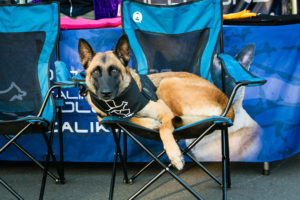 Good Friends. Tina and I met through Rock 'n' Blog, and she met Jerry through some other running-related event. I've found the vast majority of runners are good people, in that they are at a minimum encouraging and kind (though of course there are a few duds in every bunch). In general, I've found that any friend of a friend is bound to be a friend of mine, and Jerry was no exception. How can you not love a guy who will paint his beard green for a race?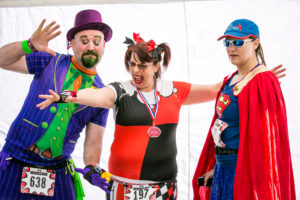 One of Tina's other friends was also at the race, and we strolled most of it together. I find it pretty funny that I went to a race that's basically in my backyard and didn't know anyone, but the girl from Calgary did.
Did you run the 2016 Heroes Run in Santa Clara County? @TrainWithBain did! Add it to your calendar for 2017!
Click To Tweet
Good Cause. The Heroes run benefits the Valley Medical Center Pediatrics. You probably think of Silicon Valley as an area filled with over-privileged, wealthy Google employees, but that's just part of the story. Like San Francisco, Santa Clara County is economically diverse. As the cost of basic living expenses (like rent) rises, it gets harder for those on the margins to pay for basic human needs such as health care, and those that suffer the most are those least in a position to do anything about it: children. As the Heroes Run website explains:
Santa Clara Valley Medical Center is the public, safety-net medical center for Santa Clara County, providing care to all regardless of ability to pay. As the largest provider of health services to low-income children in the region, SCVMC plays a leading role in the fight against health disparities in Silicon Valley.
To the side of the starting area there were several booths with information and treats from local health initiatives, the police and fire fighters, and local ballot measures (this was before election day, last weekend to get out the word). To add to the fun, the Santa Clara County police and fire fighters participate in the 5k run and an obstacle course, and compete against each other. Police and fire fighters stick around to cheer on the kids' race, pose for pictures with current and vintage vehicles, and otherwise interact with the community they serve.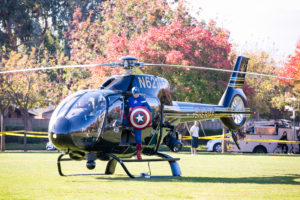 Excuse to Wear a Silly Costume. Costumes? Count me in! While I might not have the time to create elaborate outfits from scratch right now, I've got the basics in my costume boxes. Item, one bright red cape (originally created for a Thor costume, has also served as a skirt), plus a Superman tech shirt, plus my bright red shoes, and I'm a superhero!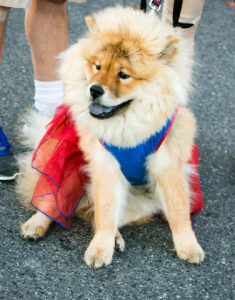 Great Event! The day actually featured multiple events. The 5k wound through the neighborhoods filled with gorgeous autumn trees (about time, since it was November already), and accommodated both serious runners (there were awards) and walkers.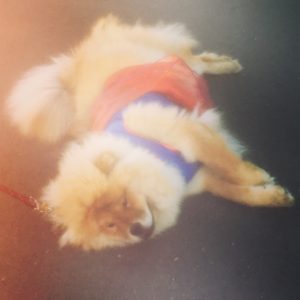 While there were plenty of kids seriously running with their parents, or walking the 5k, there was a separate kids' dash for the smaller kids. That event ran around the edges of the park block, and took place after the main 5k. It was great to see so many kids out dressed as superheroes, and I really loved some of the mashups.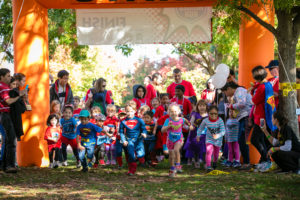 There was also an inflatable bounce-house type of thing, but it was extra large and had inflatable obstacles, like a wall to climb over and a bunch of tubes to push through. It reminded me of American Ninja Warrior for kids. As I mentioned previously, there was also an adult obstacle course.  The main race had a competition between the police and the fire fighters. This appears to be a new feature, with a travelling trophy to the winners.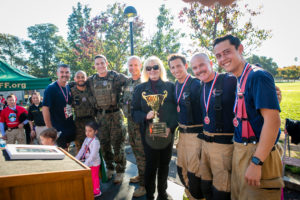 Overall, it was a really fun event. It was all-inclusive, with plenty of room for spectators, and friendly to people and families of all ages. I wasn't in it to run the fastest or win a prize, but to have a good time (and pet the cute puppies, of course!). While I know the money went to a good cause, what I appreciated most was seeing so many parents and older siblings encouraging little kids to run, play in the inflatable obstacle course, and otherwise be active. It is the main reason I enjoy these community events so much.
How about you? What's your favorite local 5k?