Last Updated: November 20, 2022
The holidays are coming, in case your email inbox isn't jammed full of pre-Black Friday offers or you otherwise somehow missed it. Wondering what to get the runners in your life to show them you care? Let's start with essential safety gear. Bonus: all of these suggestions work for cyclists and others who might be outdoors at night. Many of these brands are offering the same or similar deals at your local running and cycling shops, so shop local if you can.
Be Safe, Be Seen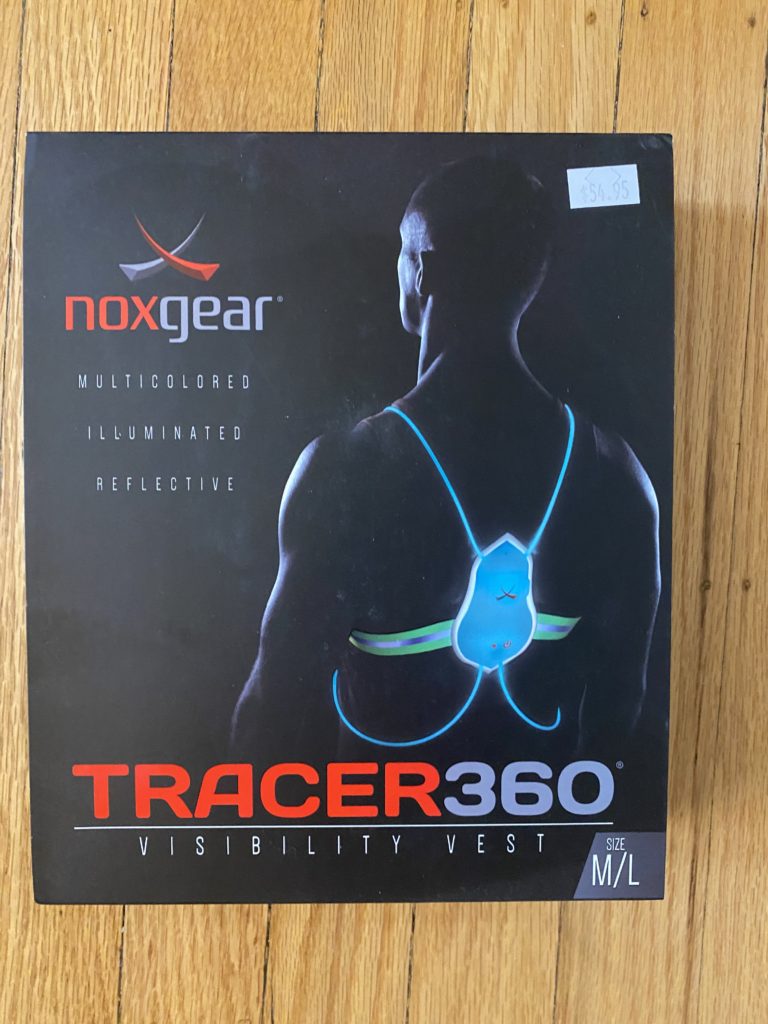 NoxGear Tracer. My favorite way to be seen, hands down. The original (as far as I know!) product is the Tracer360 vest, and personally I think everyone who runs at night should own one. Essentially it is a lightweight, minimal "vest" that you wear over your regular running clothes. (More of a belt that has loops that go over your shoulders–doesn't add bulk.) The shoulder straps light up, and there are both solid color and flashing pattern options.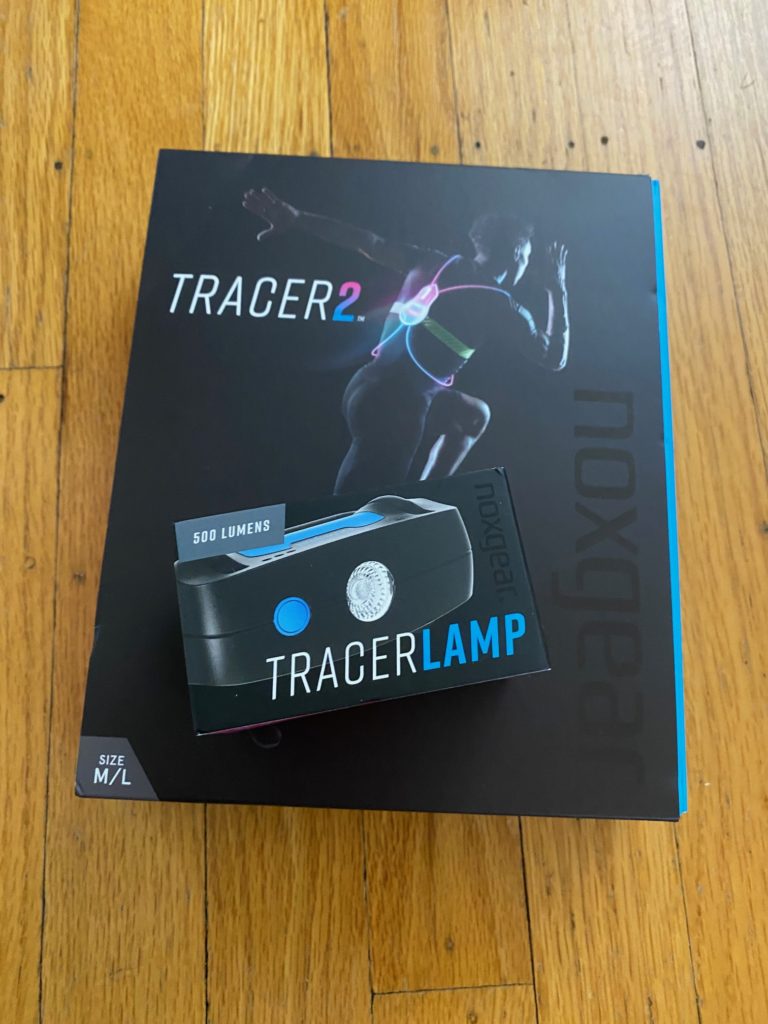 The newer model, Tracer2, is lighter because it doesn't use batteries. This vest is rechargeable using the included USB-C cable. There is also a brand new TracerLamp that you click into the front buckle on the Tracer2.
When it's dark outside, there's no way you'll be missed. Oh, and if you're out walking the dog? Get your pup a LightHound. Save 35% on your order at https://www.noxgear.com/ref/TrainWithBain/ (I am an ambassador and this is an affiliate link).
ProViz. A few years ago I won one of these jackets in an online contest, and I still cannot believe my luck. The fabric seems like a grey/silver until light shines on it and then BOOM! it lights up like someone plugged it into a socket. (sturdy and long-lasting too, so think of this as an investment in your night wardrobe forever.) No photo I take will do it justice, so I highly recommend you go look at their website. ProViz makes sport-specific safety clothing for runners and cyclists, and also has a line of general activewear including fleece lined visibility gear for less sweaty endeavours. The 2020 Black Friday deal was 20% off everything; I bet they do similar each year. https://www.provizsports.com/en-us/
Knuckle Lights. Useful for all situations where you might run in the dark, from casual night jogs to ultrarunning events. Knuckle lights strap to your hands, just like the name indicates, and increase your visibility in two ways: (1) your literal visibility to others (traffic, cyclists, other runners, etc.) and (2) your visibility in the sense that you can better see the path in front of you. There's a money-back satisfaction guarantee, and a five-year warranty, so you've pretty much got nothing to lose. I'm proud to share the love, since Knuckle Lights is based in Oregon. https://knucklelights.com/
Brilliant Reflective by 3M. If the runner in your life is picky about gear, or likes maximum options, you can help them make the gear they already own and love reflective. Brilliant Reflective Strips come in both stick on (temporary, pull back off) and iron on (more of a permanent solution) options. This is one of the least expensive ways to up your visibility, and you can add it to your clothing, bike helmet, or even your bike! There are multiple varieties and colors too. https://brilliantreflective.com/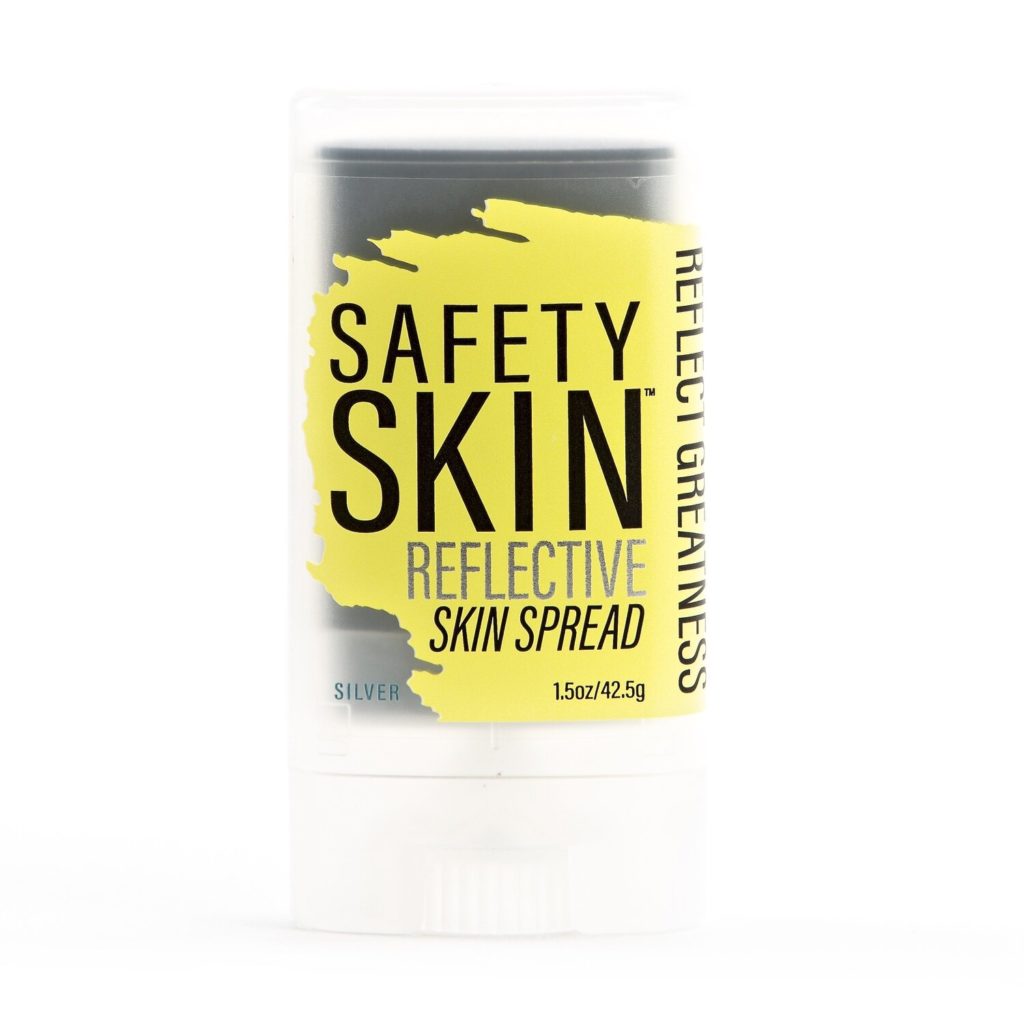 Safety Skin. We all know that one guy who runs in shorts and a tank top, year round, regardless of weather or temperature. If that's you or the runner in your life, Safety Skin is for you. Safety Skin is basically a deodorant-like stick with a wax base that you put directly onto your skin. This makes it easy to put a reflective strip anywhere on your body, regardless of whether you've got clothing there. There's a sunblock option too. https://www.safetyskinproducts.com/
Other Options. When looking at winter running or cycling gear, keep an eye out for gear with reflective properties. Most major brands have at least one line of tights, pants, shorts, etc. that has a reflective strip or pattern on it. Gear can also have reflective properties, for example on a SPI belt or an Amphipod hand-held bottle. Staying seen is one of the top ways to avoid getting hit!
Be Safe, Carry ID
I've looked around, and there is really no substitute at all for a Road ID. It's superior to carrying just your phone since most phones screen lock, and even better than a drivers license since the Road ID can get crucial medical or allergy information to responders that your state-issued ID cannot. I'm so in love with the Road ID that I personally own three or four (I have one that was specific to the original FitBit, obviously I'm not using that one anymore…). No one likes to think about it, but what happens if you are out on a run, by yourself, and something awful happens–you get hit by a car, you have a heart attack or a stroke? Road ID helps make sure first responders and emergency personnel can help you appropriately. I'm a wrist ID person, though I've used the velcro on the bands to connect my Road ID to my running vest. I bought one for my Dad, I bought one for the family dog. If your arm party is already strong, you can get a Road ID to attach to your running watch, your Apple watch, or your shoe. My favorite part of Road ID is the connectivity part: in the event I am unable to assist first responders, there is a code on the ID they can use to access my essential medical details (which I keep updated) and my emergency contact list. The cost for this is minimal, even for the low mileage I run each year. Peace of mind for all of my family, too. Did I mention the engraving is guaranteed for life? Road ID also has an app that allows people YOU select to follow you in real time, which is super useful if you have an accident and can't tell your family which hospital you are headed to. Current sale is 20% off, and up to 80% off of the clearance items. https://www.roadid.com/
Be Safe, Stay Connected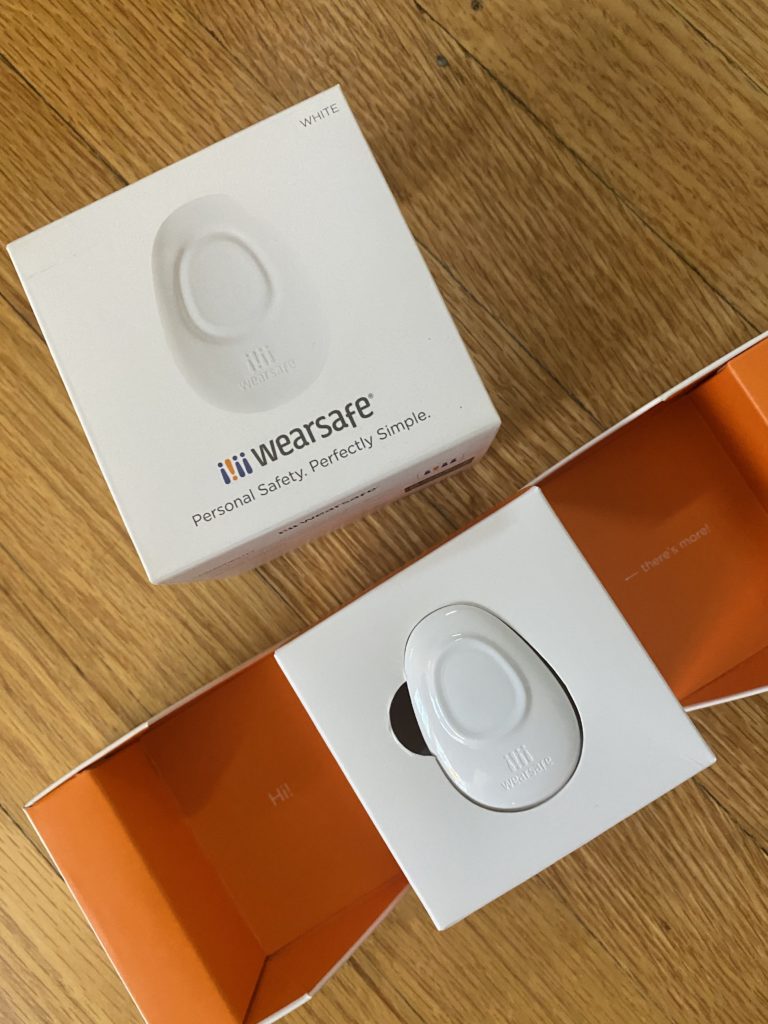 Wearsafe Tag. If you find yourself in an unsafe situation or suddenly needing help, the Wearsafe Tag is your best friend. When you get the tag, you download an app and set up your contacts list. If you find yourself needing help, you just push the button on the tag. The app alerts your contacts that something is wrong and sends them a live audio feed. Your contacts can use the app's group chat feature to coordinate a response–which might mean going to you directly, or might mean calling 911. The tag vibrates to let you know someone has seen your alert, and you can press the button again to let them know you're okay–the app will turn blue to alert them you're okay. It's easy to strap or clip the tag to your running gear. If you have a friend who runs alone and you worry, this is the perfect gift. https://wearsafe.com/
Be Safe, Be Aware of Your Surroundings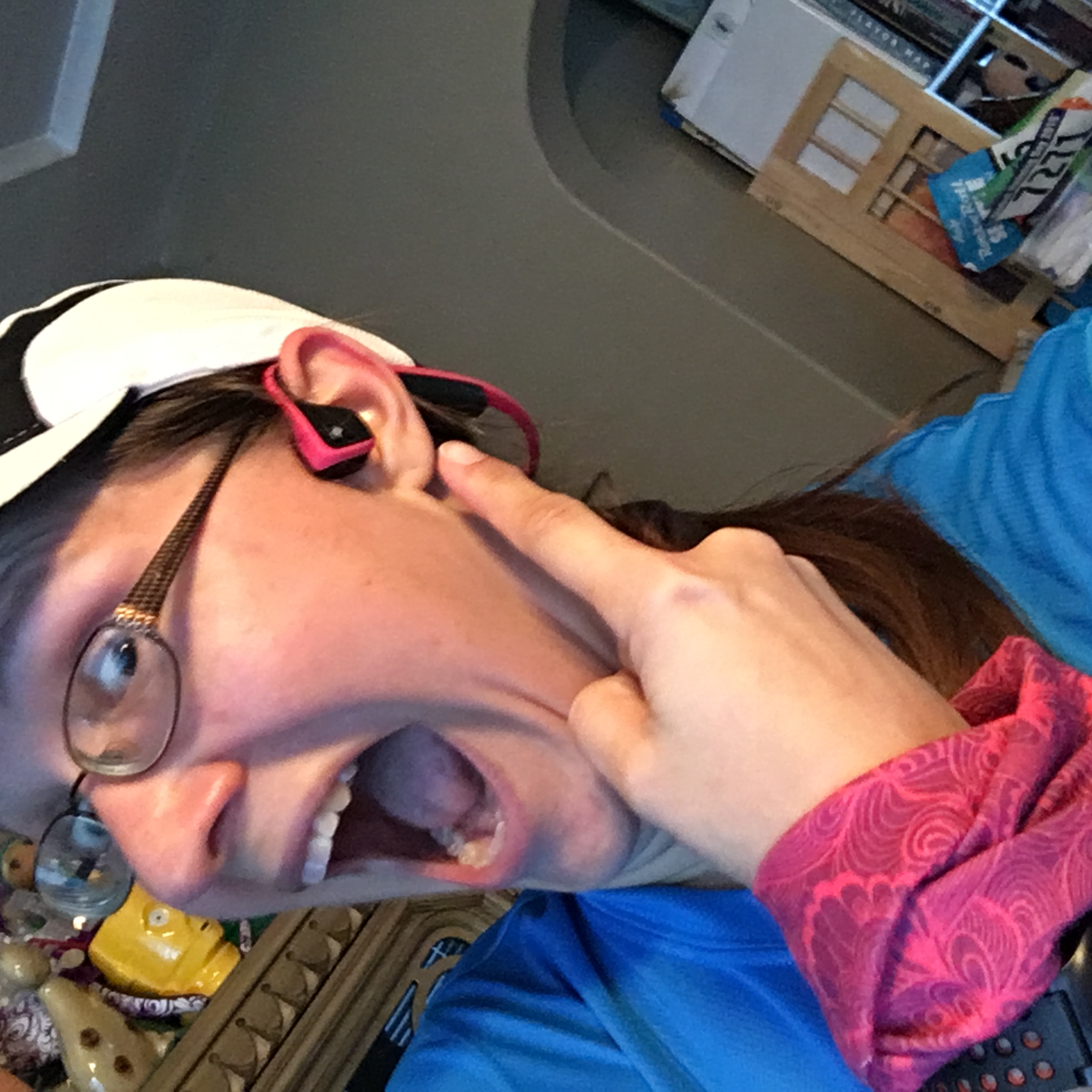 Shokz (fka Aftershokz). Regardless of whether you're running at night or during the day, the number one thing you can do to promote your own safety is to stay aware of your surroundings. Unfortunately, many runners go out wearing noise-canceling headphones that impede their ability to hear what is going on around them, from other runners to approaching cyclists to cars. (Really, it just takes one bicycle-runner collision to really mess up your body.) I've been a huge fan of Shokz for a long time. Instead of buds that sit in your ears and block out other sound, Shokz sit outside of your ears and use bone-conduction technology. This means you can hear everything going on around you. Fun fact: there are also waterproof Shokz that swimmers can use! I also have the OpenComm, which is the same idea but with a boom mic; it's been great during pandemic work Teams calls, and I find it improves sound quality when I'm teaching over Zoom. Sign up for their email list to learn about discounts. https://shokz.com/
Be Helpful: What's Your Go-to Gift for Runner (and Athlete) Safety?
Drop me your favorites! What's the best gadget, piece of clothing, or product that helps keep you safe while you're out? What do you secretly hope to find under the tree, in your stocking, or waiting for you wherever your presents appear?