Disclosure: I bought these products with my own money, because I wanted to try them. I'm writing about them because I like them. Affiliate links are clearly identified. (If you use one, there's no cost to you; I may receive a small compensation.) Also HEY! Look at me getting a "Plastic-Free July" post out during the month of July for the first time ever!
Replace Disposables with Reusables: The Zip-Top Bag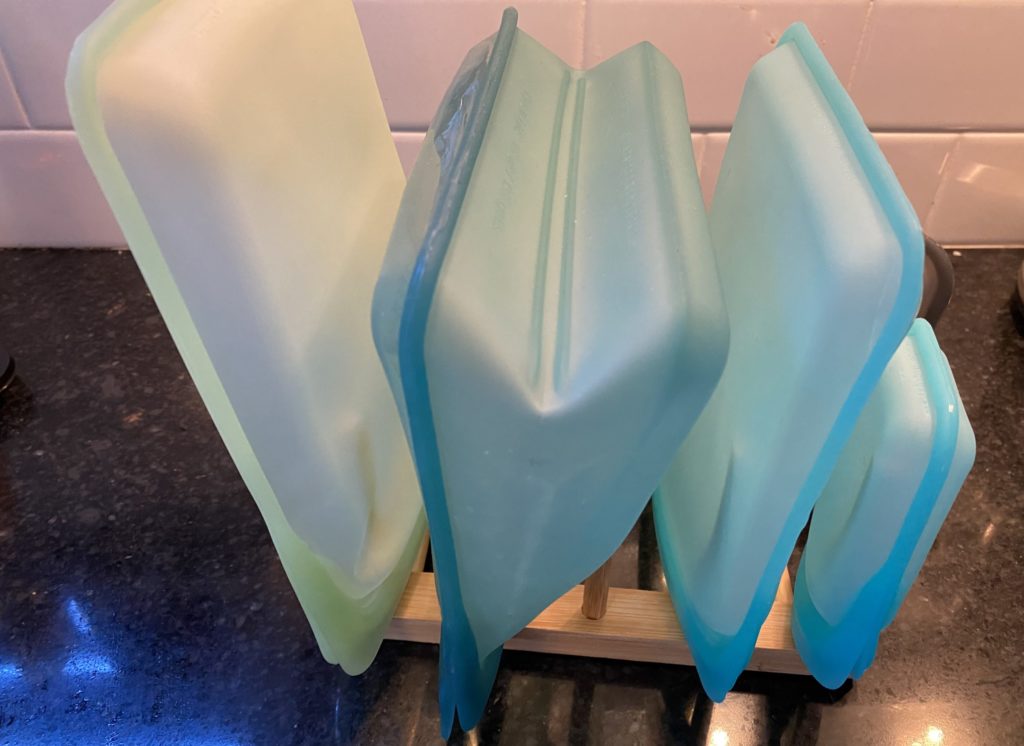 Single use Ziploc-style bags may seem innocent, but they produce a TON of waste. One source does the math like this: "The average United States family uses 500 Ziploc bags each year. With 325,719,178 people living in the United States as of July 2017, and an average family size of 2.8 people, that means that the United States alone uses an average of 58,164,139 Ziploc bags per year." (internal citations omitted) The number might be even higher; this blog cites the EPA for 100 billion such bags used per year. This isn't to pick on Ziploc–a brand name owned by Dow Chemical–because Glad's Flex n' Seal, and Hefty's Slider Freezer, and Target's Up and Up, and every other brand of single-use zipper-top bag is just as bad for the environment. It's not just their creation–plastic bags are made from crude oil, the manufacturing process can include trips through multiple countries, and their production and transportation create greenhouse gas emissions. While zipper bags are theoretically recyclable–the Ziploc bag website loves to tout how they can be recycled–you can't just throw them into the recycling bin (if you even have recycling bins). The percentage of bags recycled is super tiny, maybe as low as 0.2% of bags used.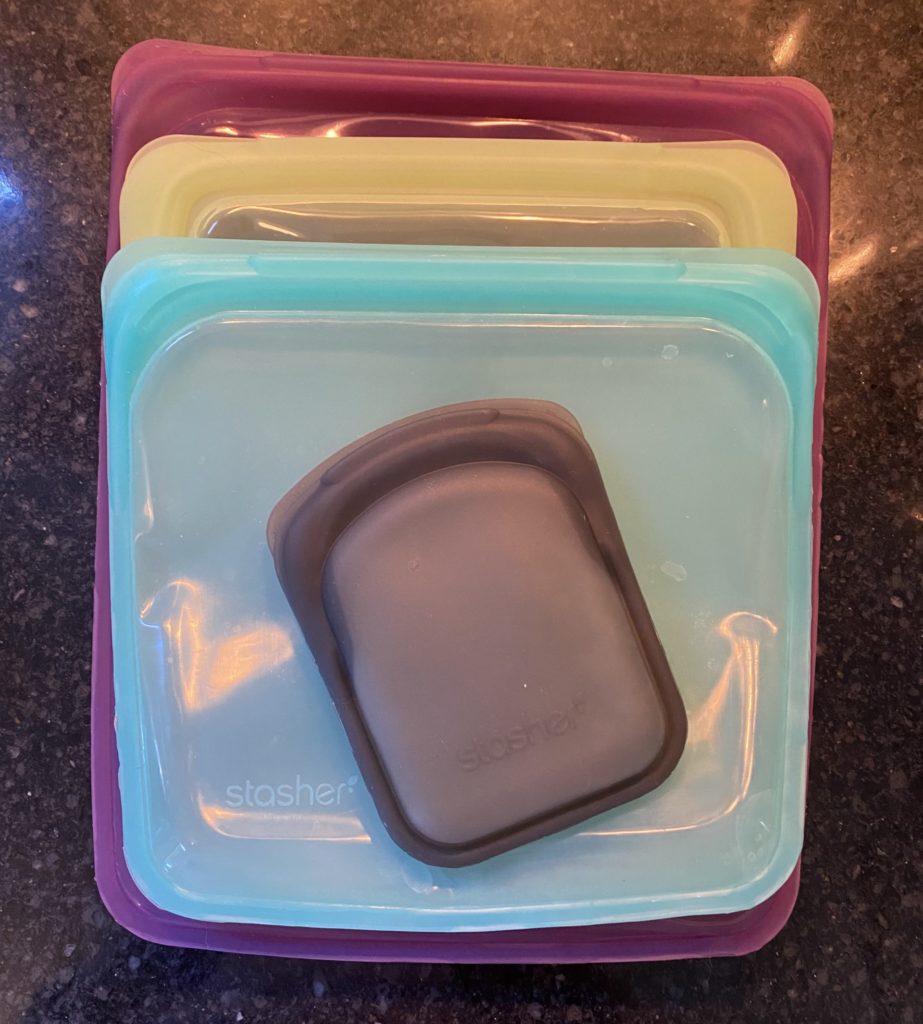 Stasher. Single-use plastic baggies–whether zipper type or not–are simply not your best choice in the vast majority of circumstances. (Nothing is an absolute in this world.) I've started to use Stasher bags instead. Stasher is made from food-grade platinum silicone, and made to meet the higher EU food package standards. In addition to food storage, you can use Stasher bags to cook (they are safe for the microwave, stovetop use like sous vide, and more). Stasher holds up to the freezer and the fridge. I prefer to wash mine by hand in hot, soapy water (I got a drying rack with the discount bundle I bought) but you can also put them in the dishwasher.
While some will argue silicone is plastic, it is made from silica (you know, like sand) and not from fossil fuel materials. Stasher bags are reusable and have sturdy seals (but don't turn them inside out–it puts too much stress on the seal). Even if your puppy manages to get a hold on one and chew up the seal, you can still use the bag for storage (you just can't seal it up). Once your bag is totally useless (maybe the pupper did more than chew up the seal?) you can even send it to Stasher for recycling through their partnership with Terracycle. No plastic baggie company does that.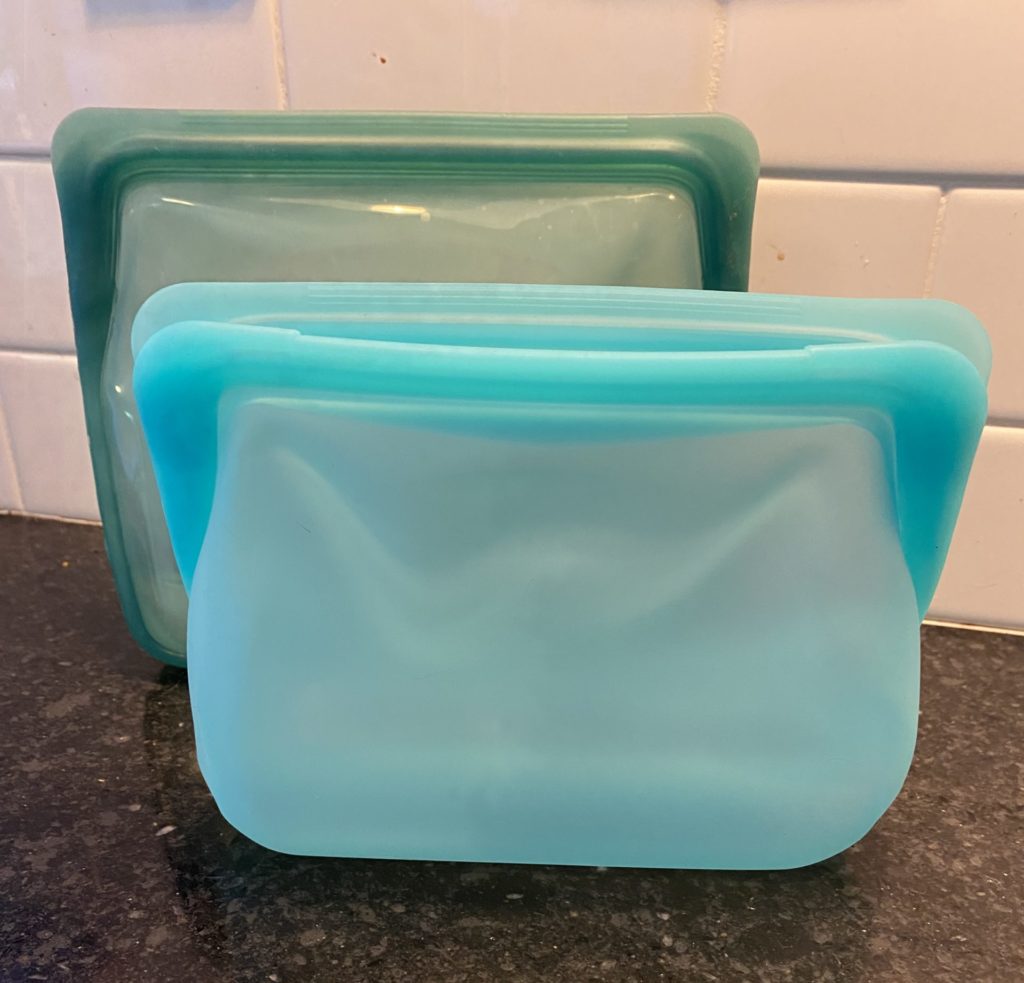 Stasher comes in a variety of shapes, sizes, and colors. Some bags stand up, others do not; some Stasher bags are more like bowls. You can find them online, in stores like Target, and in some grocery stores. The only downside is that Stasher bags cost a lot more than plastic baggies (but they also last a lot longer too!). My first was a snack sized bag in blue, and I paid about $10. (That was five years ago; I still have it.) You can get a better deal by choosing a set, or subscribing to their email and stalking the sales. Stasher donates a part of each sale to non-profits like Surfrider, and the Emeryville-based employees pitch in to community service projects like the Save the Bay waterways cleanups.
Ready to try Stasher? Use my affiliate link HERE to get 20% off of your first order.
Beyond Stasher. There are multiple other brands of reusable bags you can try beyond Stasher. Not all are created equal–some are less sturdy construction, others cannot be recycled. Investigate before you buy.
Replace Disposables with Reusables: The Shopping Bag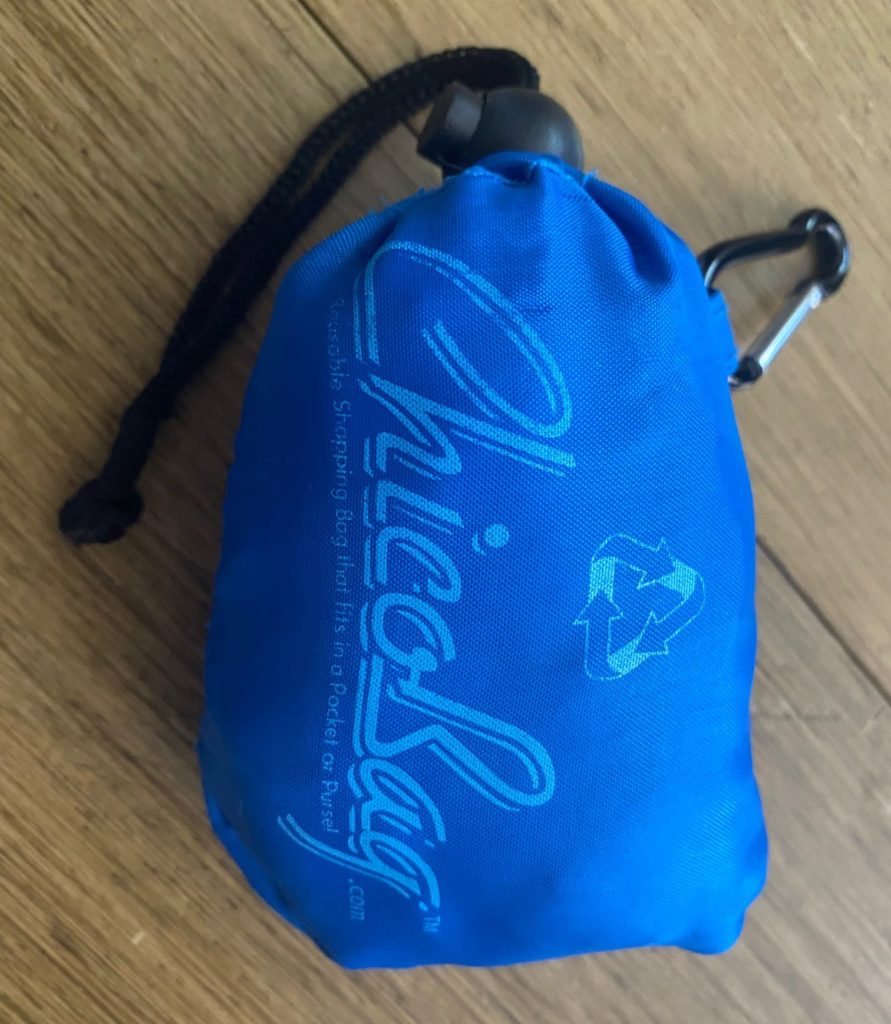 Unless you've been living under a rock, you probably know that single-use plastic shopping bags are a major source of pollution. What you probably don't know is that paper bags actually aren't that much better. The BBC points out some fun facts in this article, including that it takes more energy to make a paper bag, the extra weight of paper bags uses more fossil fuel to move them around, and paper bags need to be reused four times to make them more environmentally friendly than a single-use plastic bag–and it might not be durable enough to last that long. The Flexible Packaging Association reached similar conclusions–which you might expect, since they make plastic bags. The Columbia Climate School also reached similar conclusions about paper versus plastic, and noted that cotton tote bags aren't that much better. One thing everyone agrees on: reusing a bag of any kind is better than getting a new one.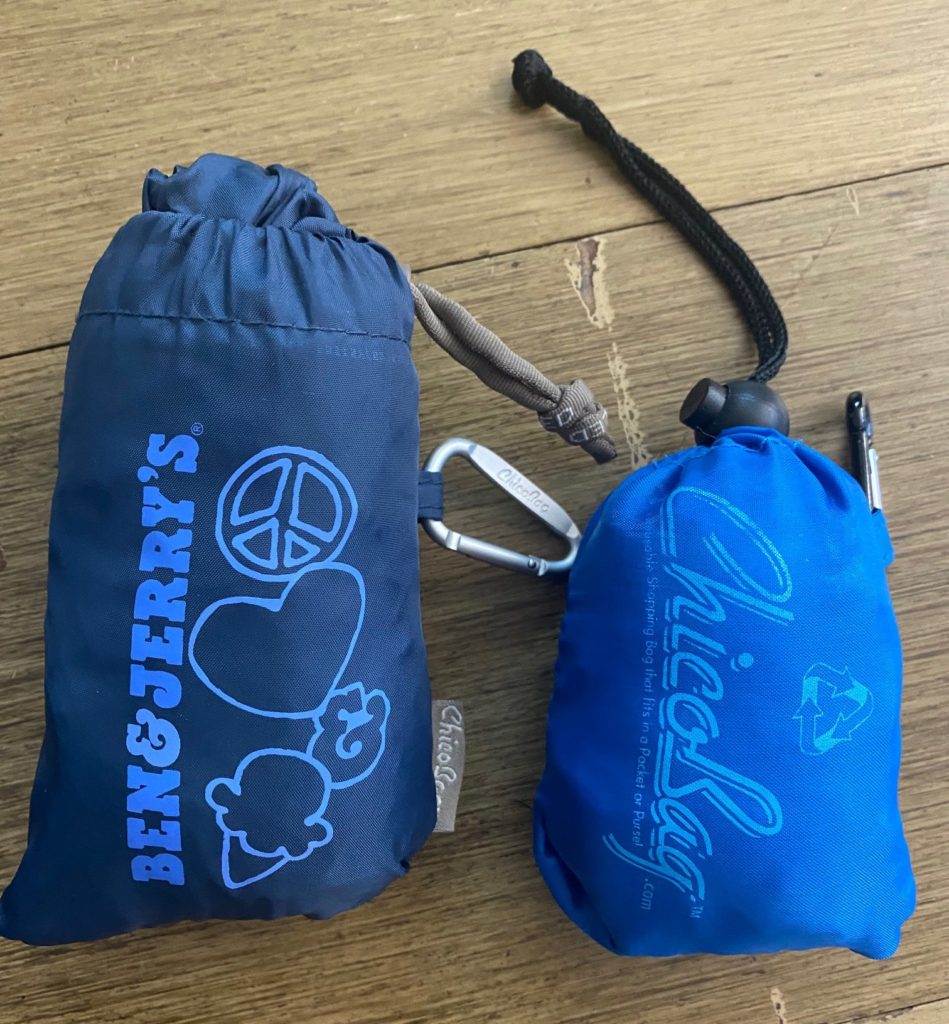 The key to choosing a shopping bag, then, is to pick one you will re-use. (That's in addition to choosing one that will last a long time, and not end up in a landfill.) For most people convenience is a key factor–it's one reason I try to keep a stack of reusable bags in the trunk of my car–so my advice is to pick bags you like and can put in a handy place. If you don't drive to get groceries, putting the bags in your trunk won't help.
Chico Bag. My favorite bags since the early 2000s have been Chico Bags. Initially I purchased a few of the originals, and later I received several co-branded bags as swag. It's now 2022, and I still have the first bag I purchased. I like that I can throw them in the washing machine (but I won't gross you out with any data on the germs and such living on your unwashed reusable bags). I'm also particularly fond of their built-in stuff-sacks (you don't have to fold up the bag, you just stuff it into the pouch) and carabiner clips; I've stashed Chico Bags in my backpack and briefcase, and I've clipped them to my backpack, handbag, wristlet, and zipper pull.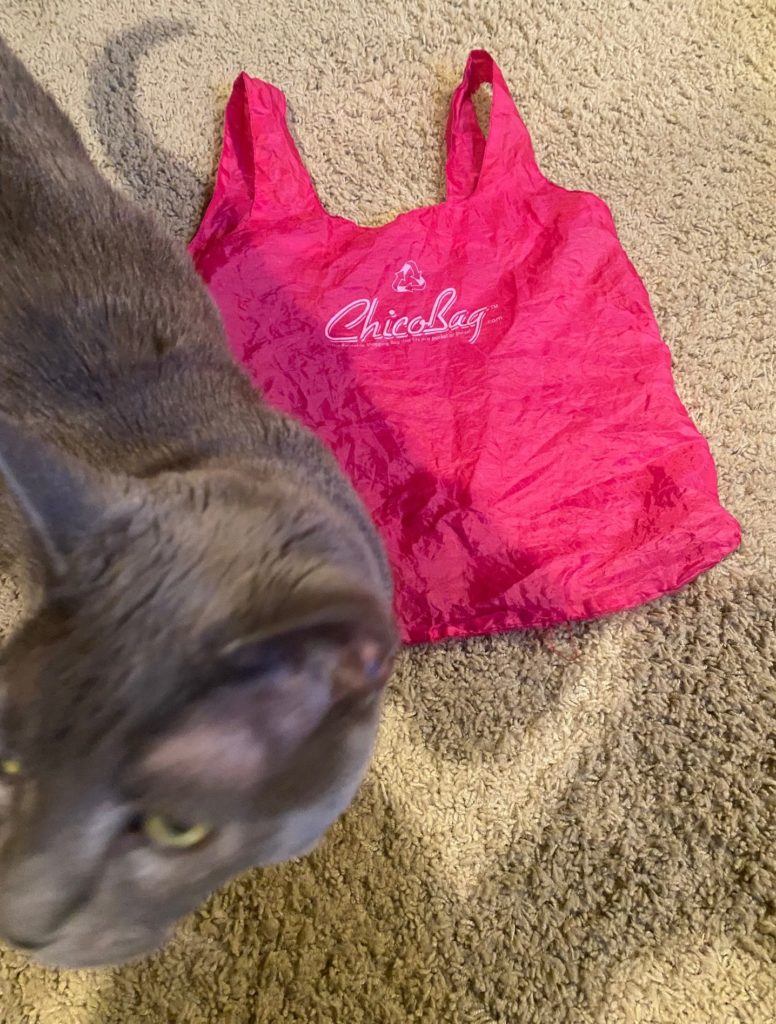 Original bags, like the kind I have, are made from a durable polyester in bright colors. I think I chose from 4 or 5 colors and paid $8ish for my bags; currently there are 10 colors and one bag $10 on the website. (Go in with some friends on the 25 pack for $200.) The reviews for the original bags have many from others who have had their bags for 10, 12, or 15 years or more–so you don't have to take my word for it, or rely on Chico Bag's estimate that one Chico Bag can replace 1,040 single-use bags. The fabric used to make rePETe Chico Bag products is made from recycled plastic bottles (the PET kind, get it?). Chico Bag has come a long way since I first bought their bags. They now make may products other than shopping bags: sling bags, shoulder bags, travel bags, backpacks, reusable snack and sandwich bags, and more.
One of my favorite things about Chico Bags is that they have committed to reducing post-consumer waste through the Zero Waste Pay It Forward program. When your bags are broken (or you're bored of them) you can send them back to Chico Bags. If they can be reused, they will be given to someone who can use them; if they are truly dead, they will be repurposed or recycled.
Replace Disposables with Reusables: What's Next?
There are still a few disposable things I'm not willing to swap for reusables. (Toilet paper is one, though I might change my mind.) Where possible, I'm trying to "vote with my dollars" by purchasing durable, reusable items that will last me a long time.
Do you have a favorite disposable/reusable swap? What should I try next?