Disclosure: absolutely nothing in this post is sponsored content. Every single word and idea is my own. The giveaway in this post isn't sponsored either, except by me, and neither are any of the associated upcoming giveaways. I have clearly labeled the affiliate links, which give me free stuff if you subscribe (and you get extra goodies too).
Can I Stuff Your Stockings?
Christmas stockings were a HUGE deal in my family growing up. Grandma had knitted each of us a fancy stocking: the kids had green, white, and red with our names and a different Christmas-themed item in each band, with a giant pom-pom at the toe; Mom's stocking had a grandma figure with soft fluffy hair, and Dad's had a Christmas tree with little sequined ornaments.
As a kid, the Christmas stockings were the only things we were allowed to open on Christmas day before Mom and Dad got up. There were traditional Christmas-y items like candy and little toys, but also practical things like toothbrushes and socks. Once we got older and moved out–and effectively moved the Christmas celebration to the Friday morning after Thanksgiving–the Christmas stockings had all the goodies (and a check).
This year, I'm celebrating the holidays by stuffing YOUR stocking! My plan is to post a different giveaway each day (be sure to follow @TrainWithBain on Instagram) but don't hold me to it–we've all seen what can happen when you get too attached to a plan.
On the 1st Day of Christmas: Subscription Boxes?
Subscription boxes are everywhere these days–there are even entire blogs devoted to nothing but subscription box reviews. Some boxes are monthly, while others are quarterly. The least expensive boxes start around $10, while some of the quarterly boxes cost $100 or more. There are subscription boxes for every niche, and even sub-niches within those. Need a dog subscription box? There is BarkBox for dogs, or maybe PoochPerks is more what you need; if your dog chews stuff there is BullyMake for dogs who are heavy-duty chewers, if you prefer to get a box from your usual pet food supplier then Chewy.com has GoodyBox. For runners, there is Runner Box, Stride Box, Runner Crate, Challenge Box (aimed at FitBit users), Fun Run Box, 5k Crate, and more. Whatever you are into, there is a box for you.
Birchbox was the first box I tried. As a woman who has always sucked at the "girly-girl" stuff, I basically had no idea how to buy makeup. My basic routine was set by the drugstore makeup I bought in high school, and the one or two foundations I had sampled at department store counters. (Remember when that's where all the cool kids bought their makeup?) I liked the idea of getting to try samples of products and discover what might work for me before committing to full-sized products. Since I hate wasting money and creating garbage, it pains me to buy a full-sized product and then discover I hate it and end up wasting the rest of it. Birchbox seems focused on high-end brands, many of which I had never tried. My samples often included perfume (and despite my lack of girly-girl knowledge, I love perfume). Anything you like, you can order a full-sized product from the Birchbox shop.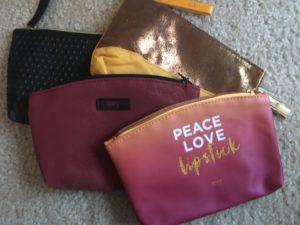 Later I found ipsy (this is an affiliate link), which includes a makeup bag with the goodies each month. Ipsy seems more customized than Birchbox, and samples change based on your ratings of prior samples (including what you think of the brand, type of product, color, and more). I've loved some of the pouches, and sometimes use them instead of gift wrap for small presents and gift cards. The brands in my ipsy often include K beauty brands, and are generally brands I'm unfamiliar with–it's good to broaden my horizons. Like Birchbox, you can opt-out of a category of products, and edit your profile to emphasize what you like. Also like Birchbox, the products in your monthly box are a surprise until they show up–though you can take a sneak peek by clicking through the email. Each month there are special deals on products featured in ipsy bags that you can find on the website. Ipsy also has monthly giveaways. Ipsy has the option to pause for a month, but only for one month. (I currently have a few invites to send a free glam bag, so let me know if you think ipsy might be for you–I'll happily send you one.)
Somehow Julep (this is an affiliate link) found me. Julep started out as a nail polish subscription box, with two polishes and accessories such as buffing blocks or quick-dry drops in each box. Julep has since branched out to skin care and a full makeup line. With Julep you take a quiz that assigns you a style. Each month there is a curated box for each style. On the 20th you can peek at your curated box–if you do nothing, it is automatically sent to you. You have the option to take your box, choose another style's curated box, or mix and match to make your own box. You can also skip your box, or have it sent to a friend instead, but you have to choose before the selection window closes. (Otherwise, your box is auto-shipped…and when you get busy, it's easy to miss that window.) I've built up quite the color collection, so I also branched out into their makeup and skin care lines. I'm a huge fan of the gel eyeliners, and the solid face cleaners (great for traveling because they are carry-on friendly). Some Julep products are now available at Ulta.
The one problem I have run into–and more with Birchbox and ipsy than with Julep–is that sometimes I get things that I can immediately tell are just not for me.  Or sometimes my preferences are so clear that I get multiple items that are very similar (like eyeshadows in the same shades, or two different brands of the same makeup brush). Generally my friends score when that happens. Some things make great stocking stuffers and mini-gifts, too.
Guess what friends? Time for YOU to score. Before I moved I barely had time to breathe, much less sort through my stuff before I packed. When you move and start working the new job immediately, that doesn't leave much time to unpack and sort and arrange, and I have continued to travel all over the place to run, so it wasn't until Thanksgiving that I had the opportunity to sort through the beauty stash. It's bigger than the space designated to hold it, so let me stuff your stocking?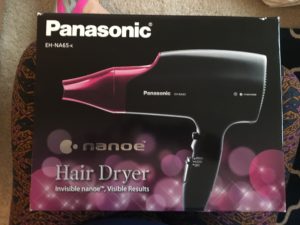 The first item in this stocking stuffer package is a brand new hair dryer. While I still use the hair dryer I got as a gift with purchase when I bought some leather sneakers (a la the Reebok princess line) back in 8th grade, I do have a backup (which I bought from Birchbox). I then got a super nice one as part of a thank-you box for being a Women's Health Magazine Action Hero–and I haven't even opened the box! There's a list of what else is in the prize below, but let's get to the good stuff. Here's how to enter:
Also in the prize package:
Panasonic nanoe Hair Dryer, model EH-NA65-k
4 ipsy cosmetic bags (bags are empty and unused)
TrainWithBain's favorites from Julep, all full-sized!

Glow highlighting powder
Love Your Bare Face detoxifying cleansing stick
It's Balm—2 colors!

Flamingo pink crème
Electric coral crème

Color that treats nailpolish—2 colors!

Katherine (a dark purple cream)
Channon (a shimmery full-coverage white)

Kaolin Clay konjac sponge
When pencil met gel eyeliners in gilded gold shimmer and ultraviolet

Toni & Guy casual sea salt texturing spray 2.5 oz
Makeup brushes

Clinique eyebrow tamer and eye makeup combo
Bare Escentuals retractable brush with cover
Shmissglam small contour brush
Beaute Basics contour blush
Beau Gachis smudge brush
Crown Brush pointed crease brush
3 brushes from Luxie Beauty:Pap

Medium angled shading
Blush
Flat top

Paper masks:

Nature Recipe Honey
2 Etude House Olive
Sephora rose

Versace single-use perfume samples
Calvin Klein euphoria perfume samples (2) spray
Elizabeth Arden pure finish mineral bronzing powder
Derma E hydrating day cream with hyaluronic acid 0.5 oz
Ruffian nail laquer in nake (neutral beige/cream) 0.17 oz
LAW nail polish in Peri Or Whatever (light periwinkle cream) 0.37 oz
Ole Henrickson truth sugar glow polishing mask 0.3 oz
J Browza brow pencil
Make Up For Ever Aqua XL in black
Ciate London Wonderland gel kohl liner in black
M skin Y Theorem Repair Serum 0.35 oz
Tarte Tarteist lip paint in delish (a neutral rosy brownish pink)
Nomad highlighting powdwer (sample size)
Elizabeth Mott, Whatup Beaches matte bronzer (sample size)
FAB First Aid Beauty Ultra Repair Cream 1 oz
The Organic Pharmacy lip and eye cream 0.35 oz
Clinique samples:

Dramatically different moisturizing lotion+
Turnaround Cream
Moisture Surge

SK-II facial treatment essence
Crystal body deodorant towelettes
Sweet Spot wipes
Nano2 natural deodorant
Maybe a few surprise bonuses!