Disclosure: I attended Natural Products Expo West on a Press pass. This post is not sponsored, endorsed, written, paid-for, etc. by Expo West (or any related entity) or any of the companies and products discussed below. The giveaway prize consists of samples I picked up at the Expo or purchased. Per usual, the topic was my idea and the opinions are all mine. Happy reading!
Chickpeas are everywhere this year. (Beets too, but that's another post.) At Expo West I saw chickpeas in soups, ready-to-eat meals, baked goods, flour, chips, puffed snack foods, frozen snacks and entrees, and pretty much every category (other than beverages–maybe next year?). I'm not sure if I'm obsessed with chickpeas because I never ate them as a kid, so as an adult they are still a novelty, or because I know they are packed with protein and fiber, making them a great addition to my eating plan.
These are my favorites:
Vana Green Chickpea Superfood Bowls
Vegan, certified gluten-free, soy-free, non-GMO
There are so many good things to say about these that I don't want to forget the most important: they are yummy! Vana Life Foods makes four varieties, each featuring green chickpeas: chipotle, black beans, and sweet corn; chimichurri, coconut, and butternut squash; kale, potato, rosemary, tomato; coconut, lime, cilantro, bell pepper, sweet potato. I'm not going to lie, I took lousy notes as I tasted my way across the expo, so I can't remember which one was my favorite. The kale/potato/rosemary/tomato was sort of Italian-food inspired, not too zesty, with the kale sufficiently hidden that I didn't feel like I was chewing on the lawn. The coconut/lime/cilantro/bell pepper/sweet potato also has lemongrass in it, and the flavor reminded me a little bit of Thai food. The chipotle/black bean/sweet corn has a vaguely Cuban flavor about it, zippy but not so spicy that it puts your mouth on fire. Finally, the chimichurri/coconut/butternut squash has to be South-American-inspired (as google tells me chimichurri sauce comes from Argentina).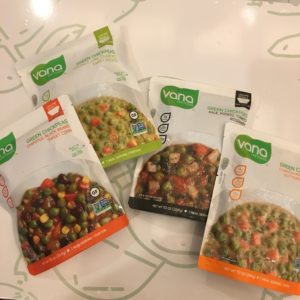 Don't fear the green chickpea. If you've never eaten one, pretend it's like the first time you ate green pasta, or colored frosting. Why are they green? As Vana's website explains:
A green chickpea is a garbanzo bean harvested from the vine in its optimal nutritional state that is immediately blanched and flash frozen to preserve all its inherent goodness. That's because when it's green, the flavorful young legume is packed with protein, fiber, A, B, and C vitamins, and minerals—while being low in fat, saturated fat, and cholesterol. Basically, it's a superfood at its best.
Seattle-based Vana won the Expo West NEXTY (sort of like an Oscar for natural food) for Best New Packaged Food. The shelf-stable pouch has two places you can tear across the top to open (little notches help you tear it properly). Tear at the top line to pour out into a bowl, pan, etc. Tear at the bottom line if you want to keep the food in the package and microwave it–it turns into a bowl! (This is really a pretty cool trick.) There is no BPA in the packaging, and it is recyclable.)
When I left the booth, I told the great folks at Vana that there were only two things wrong with their product: (1) there are only four flavors (for now–looking forward to next year!), and (2) there aren't any in my office desk drawer. The website has a store locator. You can also buy these green chickpea pouches through the Vana website, or via various other online vendors (e.g. Jet, Amazon). The price varies, but is generally $4-5; on the Vana website, a single pouch is $4.99 while a six pack of the same flavor is $26.94 (cheap compared to eating lunch out, even if you factor in the additional cost of a piece of fruit or side and a drink).
If you're enjoying this review, why not share with your twitter peeps?
Click To Tweet
Banza: Pasta Made From Chickpeas
Gluten-free, kosher, soy-free, allergy-friendly, produced in a nut-free facility, vegan (except for the mac n cheese varieties)
Technically this one is "cheating" since I first met Banza at IDEA last summer, but they were at Expo West this year.  (In 2015 Banza won the "People's Choice" NEXTY at Natural Products Expo East.) You know how when you make traditional pasta you can eat a bowl the size of your butt, and then you still want seconds? So you love pasta, but maybe think you shouldn't eat it so often? Banza is your dream, baby. Over 90% of the pasta is chickpeas, and the protein and fiber ensure that not only do you have to eat a smaller portion, you aren't going to be starving and go back for seconds (or thirds). Banza cooks like regular pasta, though the water might foam up a tiny bit more (because hey, chickpeas). Just like regular pasta, you have to keep an eye on it towards the end to make sure it comes out al dente and not all mushy.
My personal favorite is the rotini shape, which I douse in warm italian spaghetti sauce mixed with Beyond Beef crumbles and then top with grated parmesean or mozarella shreds. (The ridges on the rotini help hold the saucey goodness.) Banza also make macaroni/elbows, spaghetti, penne, and shell shapes, and offers four varieties of mac and cheese. My favorite thing about Banza is that unlike several other non-wheat pastas I have tried, this one has the right toothiness to it, so when you chew it is just like chewing regular pasta.
Banza started in Detroit in 2013 with a non-cook 23-year-old kid messing with his food (or so the legend goes). I love a scrappy start-up with a great product, but I'm not sure you can call Banza a start-up anymore, since you can buy their pasta in Target and they are part of the inaugural class of the Chobani Food Incubator. At any rate, you can find Banza in 2,700+ stores in the US and Canada, including Shop Rite, meijer, HEB, Wegmans, Sprouts, Fairway, Marianos, Whole Foods (select regions–but if you bug the manager at your local store you can probably get it too), and Eataly. You can also buy from various online sellers such as Thrive Market ($2.95/box), where prices are $3-5, or buy directly from the Banza website (6 boxes for $30 though if you choose the subscription option, you also save 20%).
Hippeas: the vegan improvement on cheese puffs
Certified gluten-free, vegan, corn-free, and have no added MSG, trans-fats, or artificial preservatives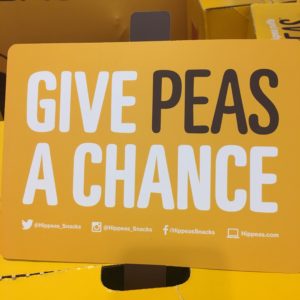 If you were at Expo West, it was really hard to miss the cute Hippeas swag themed to match their packaging. The Hippeas booth was strategically located at the corner of the room closest to the door, so a ton of people hit it up immediately when the Expo opened for the day, meaning tons of bright yellow bags with smiles on them (the eye is a chickpea, of course). If you weren't at Expo West, you may have seen Hippeas at Starbucks and wondered what's inside those yellow bags. The best I can put it, it's a crunchy snack with the texture of those cheap cheesy puffs but with unusual flavors and a MUCH better nutrition profile.
Hippeas flavors include far out fajita, sriracha sunshine, vegan white cheddar, maple haze, pepper power, and happenin' hickory. Far out fajita–the flavor I'm putting in the prize pack–is described as "A fiery stash of chilli, paprika and cumin puffs to take on your journey to self-discovery" on the website. They are definitely flavorful, so you might want to watch out what you pair them with! A single serving has 4g protein and 3g dietary fiber. It's not the same as eating the chickpea, but it's a definite snack improvement.
Hippeas also gives back. You can head to their website and read about current initiatives, including their support for Farm Africa. Oh, and they are hiring.
Chickpeatos: a crunchable munchable
Organic, kosher, gluten-free, vegan, non-GMO
When I tasted these in the fresh ideas pavilion, I was trying to describe the new Popped Chickpeatos to the guy working the booth. "They are like a Cheeto but made of chickpeas!" Um, duh, that's why they are called ch-ickpea-tos. I immediately felt stupid and stuffed some more chickpeatos into my mouth so I had to stop talking.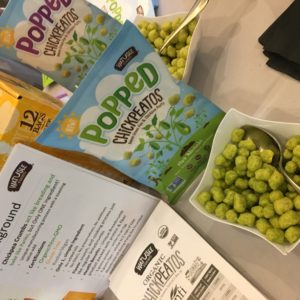 The non-popped Chickpeatos are roasted–NOT deep fried–in olive oil (except for the cinnamon toast flavor, which is roasted in coconut oil). Right now you can buy rosemary, spicy cayenne, and tomato basil (and cinnamon toast). They don't have a lot of fussy ingredients; for example, here's what's on the ingredients list for rosemary chickpeatos: chickpeas, olive oil, rosemary, salt, garlic powder. Most of the ingredients are organic.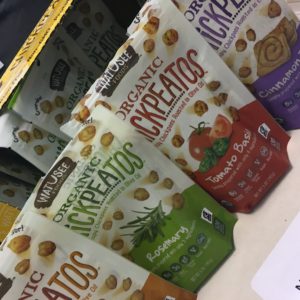 Chickpeatos are great by themselves (I know, I tried them all!) but the company that makes them, Watusee, also has great recipes on the blog. How about chickpeatos instead of croutons? How about a recipe to use up the spices and crumbs that remain in the bag when you're done? Check the blog. They have you covered. Watusee also makes a one-ingredient bread crumb substitute: chickpea crumbs! Anything you would use bread crumbs or panko on, you can use chickpea crumbs. It's a sneaky way to add a wee bit of protein and fiber to any dish. Watusee also works to fight food insecurity–a huge problem in the United States–by donating products and supporting the Capitol Area Food Bank and D.C. Central Kitchen.
Chickpeatos have some nutritional punch that makes them better than your average chip. One serving has 6g protein and 5g fiber. A case of 12 bags (5 oz, 5 servings per container) purchased directly from Watusee is currently $45. They charge a flat $5 to ship.
But Wait! There's More!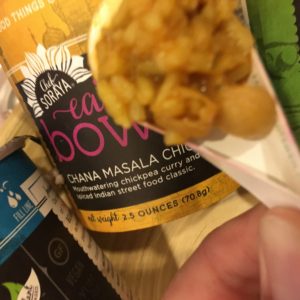 I could literally go on for another two blog posts on all the ways I saw chickpeas at Expo West. For example, I haven't even mentioned hummus yet! Truitt Family Foods is a brand I knew before Expo West, as they were a BlogFest sponsor. I am a huge fan of the Fiesta Chili Lime hummus in go-cups (which I eat completely, then rinse the container to recycle it). Technically that flavor isn't a chickpea product (the base is white beans and Greek yogurt, but the go-cups don't require refrigeration), but I love it so much I had to mention it. I also visited Hope Foods, who I first met at Expo West last year and have subsequently seen at various race expos. If you haven't tried the coconut curry hummus (or the frozen dessert hummus–yes! it's a think!), try them at your first opportunity. Their booth always has so much energy, and they make all sorts of unusual flavors (lemon peppercorn, kale pesto, spicy avocado, to name a few).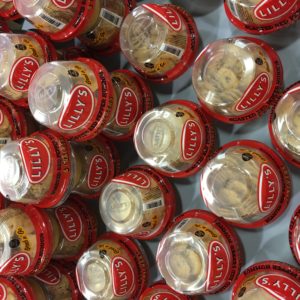 This year I tried Lilly's Hummus for the first time. Super smooth, based in Oregon, what's not to love? My favorite is the roasted red pepper, and I just learned Lilly used hazelnut briquets (not the nuts, just the shells) to do the roasting. Great re-use of what is otherwise a "waste" product.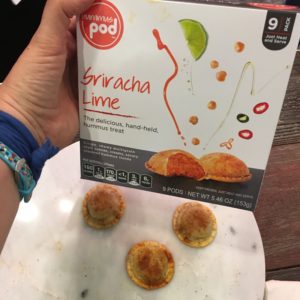 But instead of going on and on, how about a giveaway?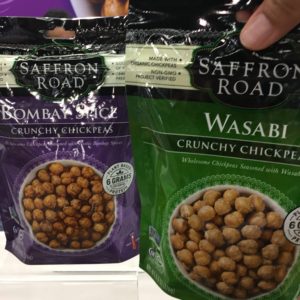 Chickpeas Prize Pack! The prize pack includes a full-sized box of Banza penne, Hippeas swag (tote and buttons), Hippeas 4oz bag in far out fajita, Maya Kaimal chickpea chips in lightly salted flavor, Biena foods chickpeas in sea salt, information on Watuse Chickpeatos and Vana Life Foods, and misc. other Expo West goodies (to fill the box, because partially empty boxes are sad). Again, this prize is NOT sponsored, endorsed, whatever by any of the companies included. There is one Chickpeas Prize Pack. Open to mailing addresses in the United States and Canada only (sorry everyone else, but postage…)
Runner-up Prize Pack! This prize pack will consist of a selection of snacks and goodies from the Expo West show. It's a pot-luck assortment, and will likely include some exotic chips, nuts, and fruit snacks. Again, there is one Runner-up Prize Pack. Again, open to mailing addresses in the United States and Canada only.