If we've met in person, you probably know I travel for work. Sometimes I travel a lot. Usually it is to exciting places like Lakeview, Oregon and Clearlake, California–not exactly vacation-like destinations. Every once in awhile I'm assigned to a more interesting location, and there are some places I will jump at the chance to go. Central Florida is one of those places, in large part because I have family there. (My family isn't particularly large, and since I'm the only one on the West Coast I take advantage of every opportunity I can to see them.) Central Florida in August isn't exactly my first choice but hey, sometimes that's how the chips fall.
This time around, I was in Melbourne, Florida. That's about an hour from the Orlando area (two hours if it happens to be back-to-school sales-tax-holiday weekend, which it was on my way back). My initial plan was to meet a friend and hang out with Mickey Mouse on Saturday, but when work spilled over into Saturday that wasn't an option. What's a girl to do? Sign up for a 5k, of course!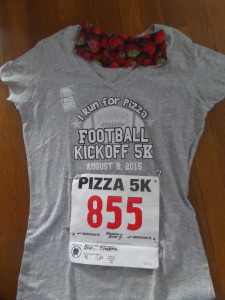 First, I tweeted Running Zone to confirm their hours. (It was Friday afternoon, I was still in a meeting…so a phone call wasn't an option. By the way, if you are ever in Florida, this is a great running store, staffed by runners. You need it to run, they have it.) Fortunately they tweeted right back and confirmed I'd make it to the store before it closed.
As soon as the meeting ended, I drove over to Running Zone. (Seriously, why not do a 5k? I had shoes and gear, and the run was football-themed, supported the local cheerleading programs, and advertised pizza at the end. How could I go wrong?) The store has a designated window/counter inside for race registration. When I looked up and saw the Space Coast series medals, I was like "oh! It all makes sense now!"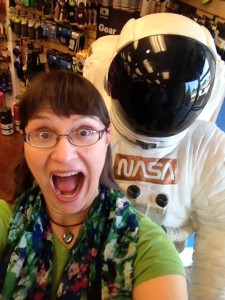 Bib and shirt in hand, as well as a few goodies and a stack of race flyers and some local discounts (standard issue, one per runner, pre-bagged), I headed off to carb up with a calzone. (Yes, I know, no science backing that a runner doing a spur-of-the-moment 5k "needs" carbs. Back off.) Fortunately one of my running tweeps lives in the area, and we met up in person! Unfortunately we were both wiped out from the week and forgot to selfie. So here's a picture of a lizard instead: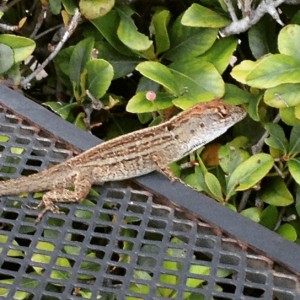 Back to the hotel for an early bedtime, since I knew I had to get up early to drive, run, drive, and shower (and coffee!) before the race so I didn't scare anyone at work. Finally I realized the true benefit of staying in a double-queen room: an entire bed to lay out Flat Bain!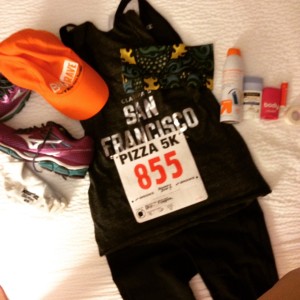 The next morning I peeled myself out of bed, plugged the address into my iPhone, and drove off to the race. It was really easy to find, with plenty of parking. Though I initially found the shopping complex confusing–there were cones and signage up for the race course, and I wasn't sure where to drive–I eventually parked, coated myself in SPF5000 for the pale to glow-in-the-dark skin tones, and followed the crowd over to the starting area.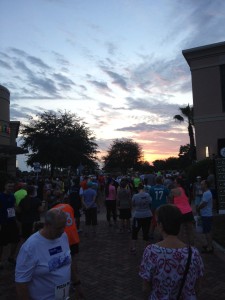 Ordinarily I complain about being up so freakishly early in the day. While I was yawning (no pre-race coffee here), I noticed that unlike pretty much every other race I've done, I was not at all cold. Uh-oh. I'm about to run in Florida in the summer! I must be nuts!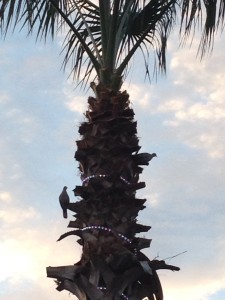 The corral was self-seeded, and people pretty much spaced themselves out appropriately. There were a pretty wide variety of runners and walkers, from the "uber-serious about a PR" to the "just out for a walk" and everything in between. There were also people of all ages, sizes, and experience levels. I was leap-frogged several times by kids who couldn't have been older than 10.
As we crossed the starting line, there were cheerleaders making a victory tunnel on both sides, cheering on the runners. It was a really fun way to start a race!
The course itself was nothing fancy, just an out-and-back that left the mall property and went past this lake/pond. There were exotic-to-me birds, including what sounded like (but were most likely not) peacocks. I imagine I looked rather strange photographing these things (the birds managed to evade).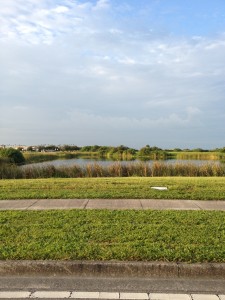 Of course stopping to take a picture or two also gave me a chance to catch my breath. It was super-duper humid out there. (Or as Floridians call it, August.) It had rained a little on Friday, and enough on Thursday night that the local run club had cancelled the run. I spent most of the rain looking at the window and wishing I could pack it up and take it back to California.
The course had sufficient hydration stations, well-stocked and staffed, and some people also carried water. Overall, it wasn't too bad, even though it was definitely heating up by the time I finished. Despite my total aversion to getting up before the sun, I started to see the wisdom of getting up and starting to run (heck, finishing the run!) while it is still dark.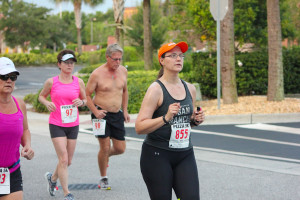 So after the race, I got an email with a link to the photos. Check it out, an unexpected race perk: free downloads! (There were also good deals on prints.) Unfortunately I hadn't packed any super running outfits and I was sweating sweating sweating, so this is about as cute as it gets.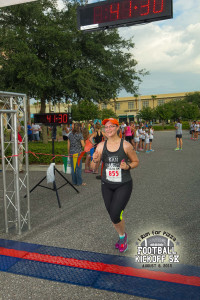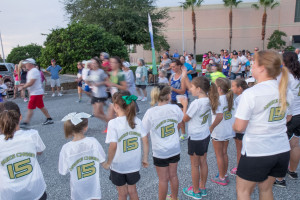 As the runners came back through the chute, the cheerleaders cheered us back in! (This is one of the Running Zone download photos. I kinda wanted to take a picture while they were all cheering, but then it occurred to me that it might be creepy to have some random adult who does not have a kid in the cheer program snapping pictures.) Immediately at the finish line, more water!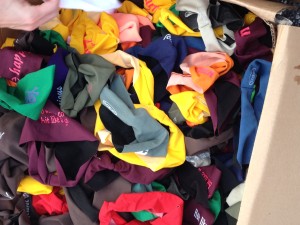 Every finisher also got a Bondi Band. (There was an email about that too.) It's a nice perk–a sweatless stretchy hair-tamer. There were volunteers lined up with bands on both arms, and a giant box so you could pick exactly the one you wanted. If you're not familiar with Bondi Bands, some of them are solid colors, others are prints, and others have cute runner sayings on them. It was fun to see the kids wearing them like ninja-style headbands after the race.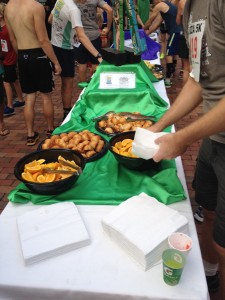 In addition to water, there were also cups of Gatorade. Planet Smoothie dished out dixie cups of something cold and icy–it tasted good too, but the temperature was divine!–and there was a genuine runner buffet set up right in front of Pizza Gallery & Grill, conveniently alongside a shaded courtyard-style gathering space.  Of course the spread included the usual "normal" runner foods, such as sliced oranges and bagels.
As runners walked past the breakfast food side and passed the center piece, there was a pizza buffet!  As a vegetarian I was really only interested in the cheese pizzas, but there were a variety of different types of pizza toppings available. Even though I came in towards the end of the pack, the Pizza Gallery continued to dish it out, slinging hot pizzas until all the bellies were full! Since I wasn't the last to finish, and I'm sure those adorable cheerleaders were hungry, I thought that was pretty cool.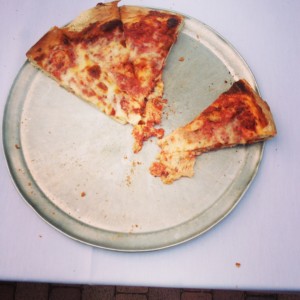 No, I did not eat an entire pizza pie. There was plenty of pizza to go around, so I did eat more than one slice. By that point I knew I had time to shower, and I'd decided that grabbing a fancy coffee drink (we don't have Dunkin' Donuts out west) was going to take priority over getting the hotel's breakfast before work. I continued to drink water, and had planned ahead (I had a waterbottle and Nuun waiting for me in the car).
Since I had to get back to get to work, I didn't hang around for all of the festivities. I did see the stage set-up for the awards ceremony (which happened after all the runners finished–something I find really fantastic, as I am usually running when the awards ceremony happens!). There were a few vendors in the area too, including the mall owner/manager who had a table with maps and other information. I picked up a mini football from this table because it was cute, and then I set it right back down. (Part of my goal to NOT bring home All The Things.) A girl, maybe 10, who had run, came over and picked one up, thanked the lady behind the table and turned to leave. She then turned around and said, "May I please have one for my little brother, too?" How awesome is that?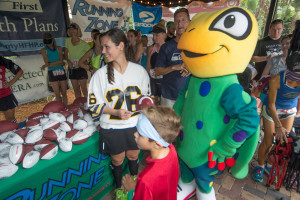 Have you ever been on a work trip (or other non-runcation) and signed up for a run? Have you run any of the other Running Zone races? I looked at the flyers, and I have to say, I'm a little jealous of how much awesome is going on down there!