Disclosure: As a Sweat Pink member, I received an ActivMotion Bar for review purposes via Fit Approach. ActivMotion is also offering you a 25% discount (read on for details). Per my editorial policy, all of the opinions in this review are my own honest thoughts. 
If you've been to a Flywheel class, you've used one of the half-sized Body Bar to do the arm exercises in class. If you belong to a gym, you may have seen or used a full-length Body Bar in group ex class or with a trainer. The ActivMotion Bar start with the idea of a bar as a workout tool and ups the game: instead of a solid weighted bar with a rubber exterior, the ActivMotion Bar is a weighted bar composed of a hollow tube and metal balls inside. The exterior is metal, though there are rubber end caps so you don't scratch the floor. When the ActivMotion Bar is level, the balls come to rest in the center. Change the angle even a wee bit and the balls start to slide, shifting the weight of the bar and challenging your balance and coordination!
I've played with ActivMotion Bars at the last few IDEA World conferences. Since I have the natural balance abilities of a drunken toddler, I was too shy to enter. My friend Sarah entered one of their IDEA World challenge sessions, during which participants go through a variety of movements and then hold a static position while holding the ActivMotion Bar horizontal with one hand. It's MUCH harder than it looks! I was thrilled to get my hands on one to use at home–where I can work on my horrible balance with only myself laughing!–and trust me, you want one too.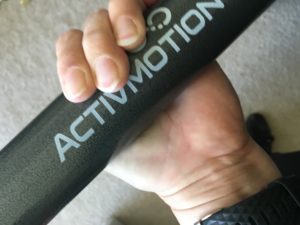 First, the basics. According to creator Derek Mikulski, "The ActivMotion Bar was developed to provide an external stimulus that forces us to focus more on mind-muscle connection and to engage the core as we stabilize an unstable load, helping improve every aspect of fitness." Derek, inspired to help others after losing 80 pounds changed his life, invented ActivMotion Bar as a tool to help his personal training clients.  Being a Michigan native, I've also got a soft spot for any innovation that comes out of Detroit–but I'd be an ActivMotion Bar fan no matter where it came from! (Want a peek at the new HQ in Sterling Heights? Check out the September video newsletter.)
ActivMotion Bar comes in a variety of weights, from 3 pounds to 18 pounds. As the bar gets heavier, it gets thicker in circumference, not longer. There is also a new bar called the ActivMotion Glimpse Bar, which has a clear window in the center so you can see the rolling balls, and use visual input to help you maintain the horizontal position. (Whether this makes things harder or easier is up for debate!) I opted to try the 15 pound bar, and so far it is PLENTY heavy enough for me. My bar arrived in a sturdy cardboard tube, with the end caps reinforced with tape (otherwise the weight of the bar would easily bust through).
Don't be fooled by the relatively low weight. If you're used to doing your upright row or biceps curl with 20 pounds in each hand, that 18 pound bar is still going to kick your butt in new and interesting ways. The unstable weight forces your body to recruit more core muscles for balance, and as the weight shifts during difference exercises you can feel your body engaging slightly different parts of each muscle. For example, the first exercise I tried was a standing upright row. I can do this with a decent amount of weight on a standard barbell, or with a dumbbell in each hand. What I can't tell using those tools is just how much I favor my right side–the balls started rolling left as soon as I began moving! This immediately required me to engage core muscles to maintain my upright position, as well as give more with my left arm. It sounds incredible to say the ActivMotion Bar engages 173% more muscles than the same activity done with a stable weight, but I believe it (and there is a 2015 University of Michigan study to back that claim).
When you buy an ActivMotion Bar, you get four free workouts (provided as digital downloads, not DVDs–immediate access, no plastic coasters). These include exercises you probably already know, like a biceps curl, but also exercises you might not think to do with the ActivMotion bar. One move I really like to do with the ActivMotin Bar is a variation on yoga's "boat pose." When I was teaching classes at Harbor Bay Club I used to up the ante by having everyone hold a light dumbbell and use it to "row the canoe" by twisting to one side and making a dipping motion with the weight, followed by the same movement on the other side. This is significantly more challenging with the ActivMotion Bar! Holding the bar in the center–there are white stripes on the bar for your hand position (approximately shoulder-distance apart)–you take boat pose and then row kayak-style. Each dip of your "oar" causes all the balls to roll to one side, shifting the balance of the bar. Twist while you do this, and you can feel your abs responding to that shift.
You can also purchase IGNITE, which is a 60-day program featuring 15 workouts led by 6 trainers. Each workout is 20-30 minutes, making it easy to fit into your busy schedule. You can download or stream the workouts (again, no plastic coasters). The program comes with a schedule you can follow (so you don't have to decide which workout to do when), or you can mix it up. There's also a dietary guide with nutrition information. IGNITE has a 30-day 100% money back guarantee. IGNITE can be purchased with an ActivMotion Bar, or without one (in case like me, you already own one). It's just $60 to own all the videos ($25 to rent them), which is $1/day if you follow the entire program.
Opting-in to the newsletter guarantees you will receive a wealth of additi0nal information. For example, this week's newsletter included a link to this video, featuring three variations on a hockey-inspired lateral move. You can find additional videos on the ActivMotion Bar YouTube channel.
Head to the ActivMotion website and use code fitapproach25 to save 25% on your purchase, now through January 7. (Hint: there's a good pre-Christmas sale on right now–and the discount code stacks!–so don't wait.)
Want to read what my fellow Sweat Pink Ambassadors thought? I swear, I'm not the only one who loves this fitness tool. Check out these other reviews!