Disclosure: Amphipod provided the prize for the giveaway in this post, because I am a BibRave Pro. Amphipod did not exercise any editorial control, or provide any content, for this post. All content reflects my own research, experience, and opinions. Learn more about becoming a BibRave Pro, and check out BibRave.com to review find and write race reviews. It's a great way to help race directors see what is working and what needs improvement, and to help other runners find out what a race is really like.
You are just a big bag of water.
Let's talk water. Did you know that about 60% of your body's weight is water? Think about that for a minute: a 200 lb. man is 120 pounds of water. You've got water in your cells and water in between your cells. Basically you're a carbon-based container of mostly water.
You are what you drink (water). Everything your body uses to run contains water. Your blood, which carries oxygen and nutrients to your working cells, is 83% water. Your body fat, which you might be burning as fuel, is 25% water. Your muscles that propel you along at 75% water. Even your bones are about 22% water.
You run on water. Again, literally. Every system in your body needs water while you are running (and while you are not!). Water dissolves and transports various substances, moving nutrients into cells and waste products out of cells and eventually out of the body as urine and feces. Water plays a role in the synthesis of proteins, glycogen, and other nutrients. Water keeps you moving by lubricating your joints, and serves as a shock absorber for your eyes and in your spine (and for your fetus, if you're pregnant).
The Sweaty Life. If you lead an active lifestyle you're more than familiar with water as a temperature regulator. Exercise heats the body, which sends water outside of the body to the surface of your skin, so that it can evaporate and cool.  The more you exercise, the more efficient your body becomes at cooling itself. Translation: you start to sweat earlier, and likely sweat more. Since each body is different, some of us sweat more than others. Sweat isn't the only way you lose water while exercising though.
You lose water 24/7: It's not just about sweat. Breathing also requires water, as your nose and mouth hydrate dry air on the way in, and release vapor (water in gas form) on the way out. The harder you work out, the more demand your body has for oxygen, the harder you breathe. Tissue in your nose, nasal passage, throat, bronchial tubes, and lungs is more sensitive when it is dehydrated. As a practical matter, that can trigger asthma, allergies, and COPD; if you have none of these, it still means you're more likely to be irritated by pollen, dust, and fumes.
Sleep is dehydrating! Just think about it–you go 8 hours without taking in any liquids, but you continue to breathe, losing water. Maybe you sweat a little at night.
Dehydration is BAD. You've probably read that dehydration–not enough water in the body–contributes to heat stroke and heat exhaustion, as reduced water reduces your body's ability to regulate body temperature. It's worse than that. If you are down a mere 0.5% of your body water, you have an increased strain on your heart. (Think about it: less water, less blood volume, sludgier blood, takes more effort to pump it through your body.) At 1% loss of body water, your aerobic endurance suffers. At 2%, your muscular endurance declines; basically if you hit 2% as a runner, you are nowhere near the top of your game. At 4% you have not just reduced aerobic and muscular endurance, but also reduced muscle strength and reduced motors skills–and you're at a risk for heat cramps. Seriously, you've got to keep that water loss below half a percentage point.
Did you know sleep is dehydrating? Check out more tips from @TrainWithBain
Click To Tweet
As a runner, you MUST be on top of your hydration game.
Water intake isn't the whole story. You can drink boatloads of water, but unless you give your body some electrolytes, that water might just pass right through, useless. Electrolytes are compounds that dissolve in water and keep an electrical charge, allowing them to regulate the flow of water (and other substances) in and out of cells. Electrolytes form the salty grit on your face if you're a sweaty runner (and even if you are not, since they regulate the release of water from the cells of your body). Electrolytes include: calcium, phosphorus, magnesium, chloride, manganese, sodium, and potassium.
Carbohydrates love water. You've probably read that for most athletes, the notion of "carb loading" before a race to replenish glycogen stores is neither necessary nor particularly helpful. But wait, there's more: carbohydrates love water, and for every gram of carbohydrate stored in your body, you've also got 3-4 grams of water hanging out. (This is why low-carb, high-protein diets initially show a quick weight loss–depleting the carb stores means water goes away, plus a high protein diet contributes to fluid losses to remove urea from the body.) This is also why most electrolyte drinks have some amount of sugar or carb in them. Like to eat pasta? You're welcome.
It's harder to judge dehydration that you think. By the time you're thirsty, you're already partially dehydrated–and now you know how bad even half a percent of body water loss is. Urine color is favored by some, but you're unlikely to see your urine on race day (I don't know about you, but I'm NOT looking into that porta-potty!), and a number of popular supplements and foods (beets!) can darken your urine and give a misleading impression.
Top Five Tips for Building Your Hydration Strategy
What's your hydration strategy? Do you know the basic facts?
Click To Tweet
Know your body. Learn to recognize the pre-thirst indicators of dehydration in your body, monitor your water loss through sweat, pay attention to how you feel during training runs and workouts. So many factors affect your hydration needs–body weight, body composition, environment, medication usage, diet, and more–that the best advice is to learn and listen to your body.
Practice good hydration when you're NOT running. Eat lots of fresh vegetables and fruit (they are good sources of water, as well as electrolytes and other vitamins and minerals). Sip on beverages throughout your day. Like coffee, tea, soda? Current research shows they aren't automatically dehydrating, but they are not as hydrating as other choices.
Pre-hydrate before a workout or a run. Drink a glass of water first thing in the morning to make up for water loss while you've slept. (Adding a lemon to it makes it taste nice, but it's not going help you lose weight, burn fat, "detox," or any other popular yet silly-and-unscientific claim. Watch your teeth if you take that option, lemons aren't kind to tooth enamel.) If you're taking a heated class like hot yoga, tank up before you go.
Test your hydration products BEFORE race day! Nothing new on race day. Seriously, you don't want to discover that your tummy doesn't like XYZ Hydration Brand at mile 4. Anything you're going to use at a race, take it for a test drive. Find out what hydration the race plans to have on the course, so you can evaluate whether to use what they provide or bring your own exclusively.
Carry hydration–and emergency cash. I need sips of fluids more often than every two miles (how aid stations are frequently spaced at races) to stay fresh and properly hydrated. Once I ran a race where the second aid station, manned by well-meaning but clueless high school students, completely ran out of water and electrolyte beverage! Fortunately I had my emergency fiver, and ran into a nearby CVS.
Enter (to win) the Amphipod.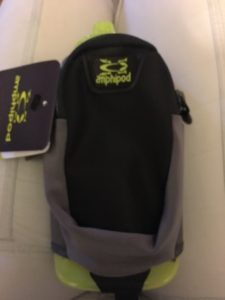 To help you up your hydration game, I've got an Ergo-Lite Ultra Amphipod to give away, courtesy of Amphipod. (Amphipod provided this exclusively for this giveaway; it was not sent to me for testing purposes.) It's brand new, never-used, and only came out of the box so I could take a few pictures of it.
All of the BibRave Pros who tried out the Amphipod liked it, even those who had previously shied away from hand-helds for various reasons. Like Running for the Average Joe, most of us hated the idea of running "while holding something." But as he pointed out, the Amphipod isn't something you hold, it's something you wear. Dr. Runner liked the one-way drinking valve (you have to suck on it or squirt to get the water out).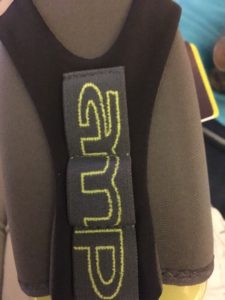 The thumb holed was a hit with Runner Transformed, who liked the more ergonomic fit. Run Away with Me liked the softness of the fabric (we all agree that chafing from stiff fabric is BAD).  If you look at the various photos accompanying the reviews, you can see that the Amphipod works well on either hand, something Samantha Andrews liked.
The products are durable, and might just save your hand if you crash on the trail, as My Name Is Dad learned. Unlike some bottles, it's also easy to clean, as Fun Size Athlete noted. That said, if you leave it in a hot car, the sleeve might discolor the bottle (as Darlin' Rae learned). Maybe wash the sleeve first?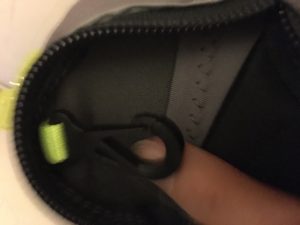 All of the Pros liked the amount of storage in the pocket, and The Caffeinated Runner found it had enough room to carry doggy essentials when running with her pooch.
Seattle-based blogger Sweet Blonde's Fit Life points out these are made in USA and, specifically, in Seattle!
Now that you've learned about hydration, why not hop over to the internet home of the Arizona Sun Goddess and read about solo running adventures?
Selected References:
caaefc956f72791e192cb0c4d8818842178a73353e52b0054a