Disclosure: I received a free Plantronics BackBeat Fit to review because I am a BibRave Pro. (Per usual, all opinions are my own–you should know by now I don't need any help with that, I've got plenty of 'em!) Learn more about becoming a BibRave Pro here. Read and write race reviews at BibRave.com!
Prior to testing the Plantronics BackBeat Fit wireless headphones, I'd never run with Bluetooth headphones. I'm not sure why I thought I wouldn't like wireless headphones, especially since I'd pretty much stopped running with music due to corded headphone issues. The ear buds that come with the iPhone/iPod are pretty from a design standpoint, but had a tendency to jump out when I run (plus if you sweat on the ones with the volume control thingy on the cord, you can kill them–Awesomeness alert: the BackBeat FIT is 100% waterproof. You can even fully submerge them. Tunes while swimming, anyone??). I'd switched to Yurbuds since they are a huge improvement in terms of both of those issues, but now those are my at-work earbuds. It's probably my naturally graceful movement, but once I'm geared up to run they were sure to snag on something–hat, watch, Road ID, Handana–and yank a bud out of my ear.
Running without music is a drag sometimes. When I'm running alone and not at a big event, I need more motivation than I can get from just running. Otherwise it is just too easy to sit on the couch. So when the BibRave Pro team had the opportunity to test the Plantronics BackBeat Fit, I decided to give them a spin. Worst case scenario, I'd decide they are not for me and give them away. (No such luck for you, dear reader, as it turns out I love them.)
When the box arrived, I felt like it was just like Christmas! I knew exactly what was inside.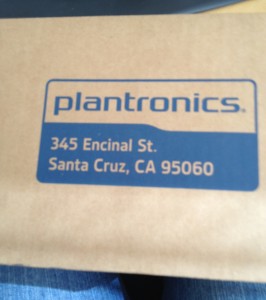 I forgot to mention that long before Bluetooth, when most of us didn't have cell phones and Apple hadn't invented the iPod, back in the days before we were worried that the Y2K bug was going to cause the end of the universe, that's when I first learned of Plantronics. The context was that I was a student at Coach U., where all of the classes are conducted telephonically via bridge lines. In order to avoid the creaky neck caused by spending hours and hours holding the receiver with your head and shoulder so both hands are free to reference materials and take notes, the Coach U. team recommended all students buy a headset for their phones. (This was a radial notion at the time.) The brand Coach U recommended as the top-of-the-line, best investment was Plantronics.
Now I have a Plantronics headset in my office for conference calls and depositions. From the context I always associated Plantronics with businesses and offices, so hearing a connection to running was quite the surprise to me.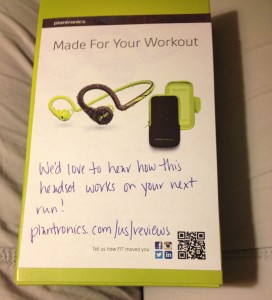 The Plantronics team included a handwritten note inside. I really love that kind of personal touch–it makes me feel like there are people on the other side of the box and the product, instead of a monolithic corporate entity. (I have no idea whether Plantronics is a huge company or a tiny one. All I know is that I associate the name with quality headsets.)
I'm also a giant nerd, and I'm interested in packaging and presentation. Instead of ripping open the package and extracting the contents, I've got to examine all the elements first. Notice the sticky-note on the box not only has the social media information and a QR code, it also has a color photo of the two most important items in the box, the headset and the carrying case. (The box also contains a charging cable and instruction booklet.) The carrying case is reversible neoprene: turned one way, it's a storage unit for the headphones, cable, and instructions; turned the other, it's an adjustable armband to carry your phone (keys, cash, etc.) while you run.  Also, the note is color-coordinated with the box and contents in Lime Burst (the headset also comes in Electric Blue). Enough already, let's open the package.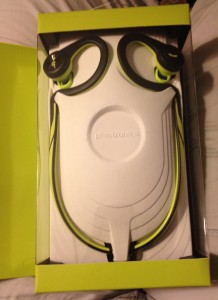 The front piece of the box opens like the cover on a book. It reminded me of the Lifesavers "A Sweet Story" packages my parents used to get for us kids at Christmas. Anyway, peek inside!
Pretty, right? The picture doesn't quite do it justice, the color is much nicer live. Also, you can't tell, but the piece connecting the two earbuds is flexible like a cable, not stiff like what I suppose are now "old-fashioned" headphones like the kind that came with the Walkman.  Awesomeness note: this makes them super adaptable to different sizes of heads, and you can wear them under or over headgear!
Charging is simple. First pull out the small tab to slide the cover off of the plug receptor. Plug the charging cord into the receptor, and then connect the other end to a USB power source (e.g. computer, wall-wart). Rings around each bud turn red when the power is connected, and blue when charging is complete. Final step, pair the headphones with the iPhone. Boom.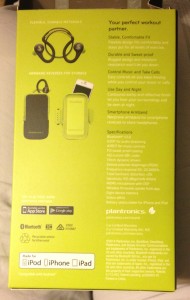 Ready to go! I read the instructions, and you'd think I could have figured this out since there are only really two buttons, but some days I am short a few clues. I put the headphones on and hit the button, but nothing happened. I tried the other button. I tried both buttons. Cut to the chase, you don't just hit the button, you hold it down for 2 seconds. The headphones then speak to you ("Power On"). If you tap the button, they will tell you how much charge is on them. Awesomeness note: there is an 8 hour battery charge life. That means you can psych up before the race, run a marathon, and still have tunes to enjoy with your post-race beer!  To adjust the volume, you can either use the button on the headset, or you can use the volume controls on your phone. (Bonus: my iPhone shows that the headset is connected and shows the power level.)
One thing I really love about the Plantronics BackBeat Fit is that these are NOT noise-cancelling ("block out") headphones. Wearing noise-cancelling headphones while running is a major safety hazard, because they are designed to block out all of the ambient noise, anything not coming from the sound source. When you're running, you need to hear the world around you! Not being able to hear traffic, other runners, and race officials/volunteers is downright dangerous. Awesomeness note: the BackBeat Fit delivers quality sound while still allowing me to safely hear important environmental clues. Or as the website puts it, "Eartip design directs audio into ear but lets you hear a bit of your surroundings."
I've now taken these out on short runs like the Road Runner Sports Adventure Runs, and on long runs like the Rock 'n' Roll Virginia Beach half marathon. So far, I love them! There are a few features I haven't tried yet.
Phone usage. Use the buttons to switch between music and phone calls without fuss.
Armband case, because I'm either holding my phone in my hand (Adventure Run uses a map) or it is in one of my skirt pockets, so  my biggest problem is what to do with the headphones when I'm done running. I tried hanging them around my neck, but if I bend over I lose them (which could be perilous in a porta-potty!). After one run I put them around my neck, and secured them with a Buff. Another time I put them into a free pocket.
Apps. Plantronics has some apps in the app store. According to the website, "Our apps help you get the most from your headphones by explaining features, updating to the latest firmware, and even locating your lost headphones."
If you haven't tried the Plantronics BackBeat Fit and are in the market for wireless headphones or Bluetooth headphones (these are both!), I highly recommend these headphones. I love them so much I've committed to a year of membership in Rock My Run, now that I know I have reliable, non-tangle, headphones.
But hey, don't just take my word for it! Take a look at reviews by some of the other BibRave Pros!