Disclosure: I received a complimentary bib to run The Double Your Luck Challenge because I am a BibRave Pro. Learn more about becoming a BibRave Pro here. Find and write race reviews at BibRave.com All opinions in this review are my own. (There is no "sponsored content" or advertorial here!)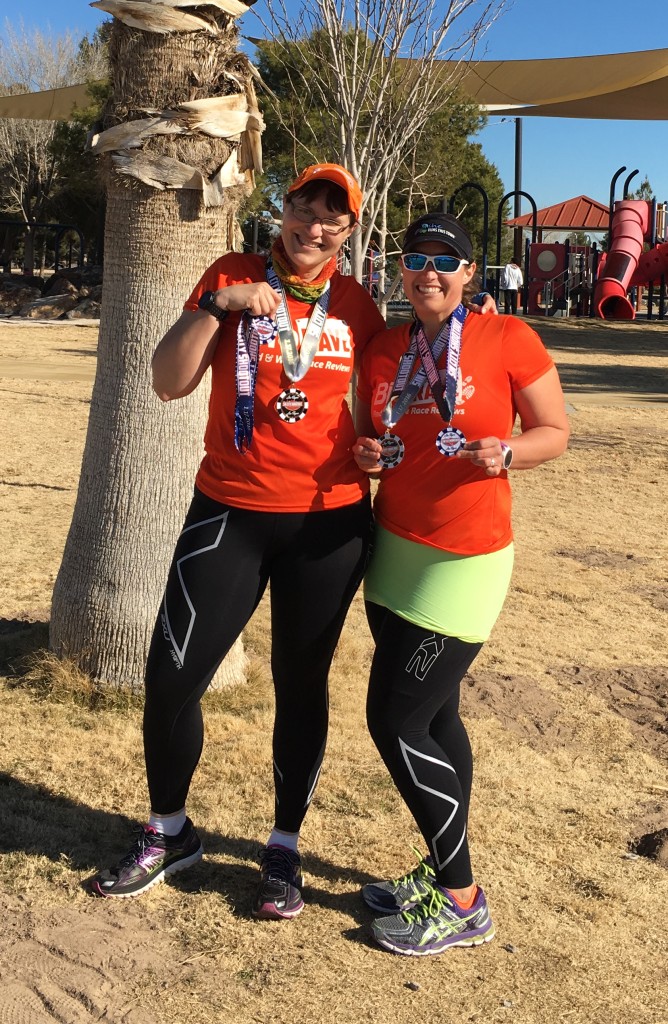 While I originally planned to show up Friday night so I could check out the Sin City Shootout opening night parties after I picked up my packet, my elderly cat has been refusing to eat and is now on steroids…combine that with the week I was just out of town for the Walt Disney World Dopey Challenge, and I didn't want to leave the poor meow alone for more than a night. So I flew in Saturday evening. While the Tropicana was the official host hotel for the Sin City events, I had a friend in town who already had a room at Harrah's, and I love me some free crash space. The main advantage of packet pickup on Friday is the ability to purchase the special Sin City Shootout mug, which comes with a slew of drink specials at the various affiliated parties over the weekend. There was no pickup Saturday, and I wasn't about to go out drinking the night before a race, so no parties for me!
I got up early Sunday and went down to hail a cab. The one thing I disliked about this event is that there was no transportation provided, and facebook group or other way to arrange a ride share. The Sin City Shootout host hotel is the Tropicana, though I stayed at nearby Harrah's. My taxi out to the event cost around $30, and I wasn't the only one who took a taxi—it would have been nice to have a way to coordinate rides. Some people did drive, but since I was just staying overnight the cost of a car rental was crazy. There was ample free parking right by the start/finish, so locals scored a great deal.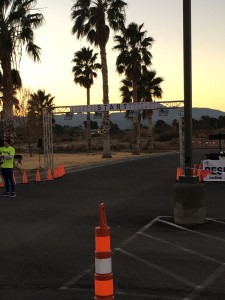 While I had planned an hour before the race for packet pickup, I think it took more like 10 minutes. There was a line, but it moved rapidly. The Sin City Run packets were small but mighty! I really like it when a race packet has minimal paper (like flyers and stuff) and only runner-related items. Packets contained your race bib, a discount on EnergyBits, samples of gummy vitamins, Clif Bar minis, and samples of BioFreeze, in addition to safety pins. Unfortunately I didn't get to pick up my shirt because two of the boxes of shirts were stuck on a UPS truck somewhere, so I'll be getting mine in the mail. (They only had small, and I'm not small.) The shirts are cute, a grey basic cotton tee with the Sin City Run logo on the front. I know I'll wear mine.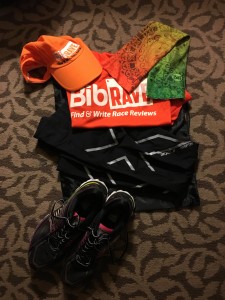 Initially, I was freezing cold—it was in the 40s, even though I'd checked the weather report and it said 60s!—and I really wished I'd brought a heat sheet or a long-sleeved shirt. Before the 5k, BibRave Pro Laurel (aka Running to Happiness) and I huddled in her car and had some BibRave Pro bonding time prior to the start. Both of us happened to wear our 2XU winter-weight Hyoptik compression tights, and I for one was VERY pleased for the warmth. For the 5k I pulled my Buff up like a balaclava to cover my neck and head, and give me a little extra heat-retention until the sun came out. Eventually the sun did come out, and I started to warm up quite a bit.
The course was flat and as I mentioned 100% blacktop. There was the most minor of downhills at one point in the course, but you really had to be paying attention to notice it. Both courses run through Sunset Park, a protected wildlife dune just past the airport. The 5k race course takes one loop around a portion of the blacktop-paved trails, and the 10k race takes that loop twice, plus a little mini-loop to add the mileage. (Given the layout of the trails, I suspect there were few options for adjusting the course length.)
For the 5k, I ran with Laurel. She was running 2-1 intervals at a pace of about 11 minutes/mile. (I think I remembered that right.) She was kind of kicking my butt, actually, but I wanted to try the 5k as a challenge. This seemed like a good idea for the first 2.6 miles or so, then I started lagging. Frankly, my legs were pretty leaden from last weekend's running-of-the-Dopey. I made it anyway, of course, but my legs were very cranky.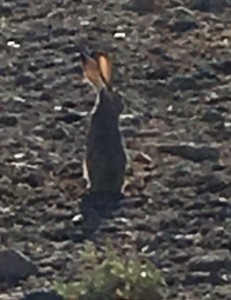 Despite being right in the middle of Vegas, the race course seemed very nature-y and not particularly urban. I spotted at least two dozen bunnies, and during the 5k Laurel taught me that the ones I call Bunna-Bunny-Big-Ears are not bunnies, but hares. (Yes, I still make up names for cute animals I see while running. I blame the lack of oxygen to the brain.) Well, they might be blacktailed jackrabbits. But she also told me she learned that they can control their body temperatures with their ears. Very cool. I wish I could do that.
I was a little disappointed to not see any lizards while I was running, but it occurred to me that while lizards can be desert-dwellers perhaps they don't like dunes?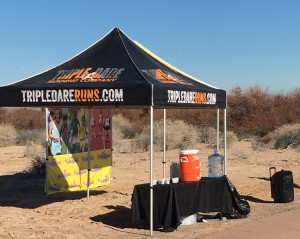 The course had one aid station with water (and music and cheering) which each runner passed twice during the 5k run and four times during the 10k run. The course was marked on the blacktop with chalk, with cones and XXX where appropriate to make sure runners didn't stray from the path. There were volunteers at every point where the course might have been even a little bit confusing, as well as at the few places where the course crossed a road open to vehicles. The volunteers were really great, cheering for every runner who went through the course. In the beginning this might have been so they could stay warm, but they kept up their enthusiasm even after the sun came out.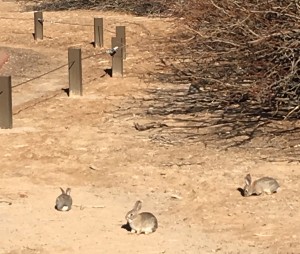 For the 10k, I decided to switch back to my usual 1-1 intervals (which later degraded to 30 seconds and 1:30 intervals) since my legs were just not feeling it. The sun came out, and the sky was blue, so it was gorgeous out, pretty much the perfect day for a run.  I tried to photograph my new "friends" during the 10k but they wouldn't hold still. Every time I heard a new bird I stopped to see if I could find him, since I've never lived in the desert. I'm not sure how to describe the landscaping, but it was a natural mix of yucca-like stuff, a few cactus, and the usual desert-like trees. I could see mountains (and snow!) in the background.
The finish line had someone to announce each finisher, which I thought was a nice touch for a smaller race. There is a single finisher medal for either 5k or 10k, though if you do both you get a bonus medal. The race medal is poker-chip-themed, and double-sided enamel. The bonus medal is also poker-chip-themed, and is a spinner. Both feature wide colorful ribbons. Overall, I thought these were executed beautifully.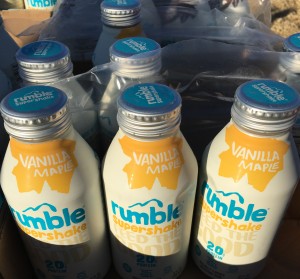 A few steps beyond the finish line runners had an assortment of post-race snacks, including a beverage called rumble that I'd never tried before. (The vanilla maple is delicious.) Other offerings were water, bananas, Clif organic trail mix bars, pretzels, and tortilla strips.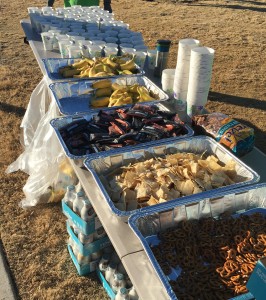 As I wrote on BibRave.com, this is less of a "destination race" and more of a "race in a destination." It was small but mighty! This is the complete opposite of the Rock 'n' Roll Las Vegas runs (which are huge, urban, and at night). This would be the perfect race for someone who wants to go to a small but extremely well-managed event. This would make an ideal race for a friends' getaway weekend; I could see combining running these events with a longer weekend in Vegas—maybe go to the opening parties Friday, see an afternoon show Saturday, run Sunday morning, and then head to a champagne brunch buffet.
After my race, I convinced Laurel to drive me back to Harrah's. I grabbed a shower, changed clothes, and put almost everything back in the suitcase. I met my roommate down in the high-limit room, and we headed to lunch and caught up. (I had almost convinced her to run with me, but since she was in town for a poker tournament she quickly came to her senses and decided staying out late and getting up early were not a recipe for a winning poker tournament.) When we said goodbye, I stopped to get a fruity frozen drink (because hello, Vegas).