Disclosure: This is NOT a sponsored post. No one even knows I am writing it. I didn't get any bonus, incentive, or anything else to write this post, and every single word is mine. I'm a proud "Brew Crew" member, and since the March and April events are rescheduled and it's for a good cause, I signed up for the qua-RUN-tine too.
It's a qua-RUN-tine!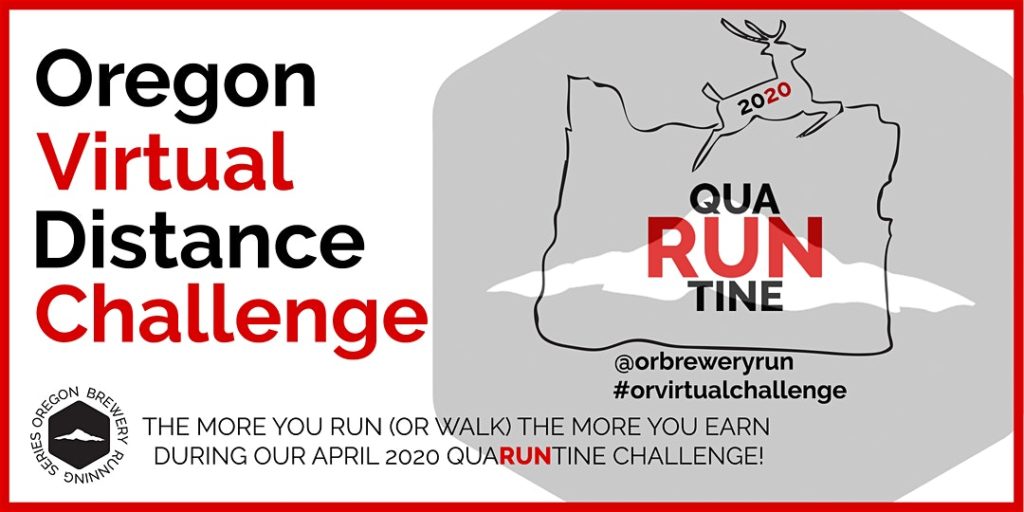 Yeah, so this just started today, and I'm still figuring out how it works, so if this part is wrong, oops. Since we can't have our usual Oregon Brewery Running Series runs right now, this is what we're doing. It's $45 to enter, and the charity partner is Oregon Community Foundations' COVID-19 Relief Fund. After you sign up–do that here–you join the group on Strava (which is how they track your miles). Strava is free, and you can connect it to your running watch or other gadget as well as a bunch of other apps.
There are prizes at 10, 25, 50, and 100+ miles, plus weekly giveaways. Even if you don't join the qua-RUN-tine, the Oregon Brewery Running Series is having virtual Happy Hour (or should that be hoppy hour?) on Saturdays in April. Basically you go for a run, and then have your cool down (and a beer?) using videochat. Get on the mailing list, so you can join in via Zoom.
UPDATE!!! NOW THERE IS A MAY QUA-RUN-TINE CHALLENGE!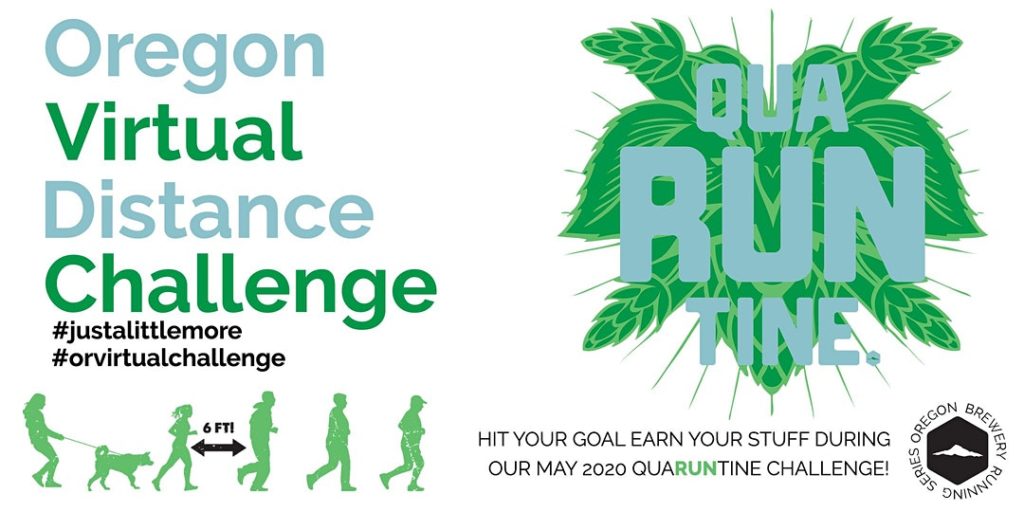 UPDATE: It's nearly May, and we are still staying at home. Even though our testing capacity is going up, Oregon is seeing fewer confirmed cases and fewer deaths. That means IT IS WORKING!! If we keep it up, we can continue to "flatten the curve," and ensure the Oregon health system is not overwhelmed by COVID-19 patients.
For the MAY challenge, participants will set a goal during sign-up. Prizes are based on whether you hit your goal, and how close you get: 25% of goal: Wooden Coaster; 50% of goal: Socks; 100% of goal: Free run entry or t-shirt; 120%+: Beer Delivery from participating breweries! Weekly virtual post-run happy hours and live-streamed concerts will continue. Like in April, the May challenge is $45 to enter, and the charity partner is Oregon Community Foundations' COVID-19 Relief Fund. After you sign up–do that here–you join the group on Strava.
The 2020 Brew Crew Season
Last year I bought a ticket to the season opener, a party at the Oregon Historical Society (or was it the museum of Oregon history? something like that) and an exhibit on the history of brewing in Oregon. I didn't go because I didn't know anyone else who was going, and I wasn't feeling up to a big party solo. This year the running season kicked off with a Brewfest at the Run Pub. Yup, you read that right–Portland Running Company has a Run Pub. During the kickoff everyone could sample a variety of beverages from the hosts of this season's events. There were a variety of local eats and a food truck too. Now I know a lot of runners balk at paying to run an untimed event, especially if it's a 5k-ish, and extra-super-especially if there's no medal. But trust me this is $30 well spent. (If you were smart and bought a multi-pack, you paid way less than that.)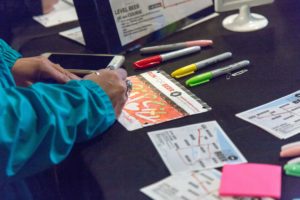 The Venues. Each event starts and ends at a different Oregon brewery. The course is a loop through whatever is nearby, so you might be running a neighborhood, or you might be running around industrial parks. So far in 2020 we've run four places (though I've only made three). LEVEL beer is an old-school arcade game themed tasting room in NE Portland with a gigantic outdoor space (currently a heated tent); it hosts food trucks in the parking lot and has super cute merch. HUB–the Hopworks Urban Brewery–in Vancouver has a full service restaurant with a variety of food (though if you don't get the pretzel sticks appetizer, you're nuts). Baerlic has a small tasting room in NE Portland with an outdoor event space (heated tent–which I loved since it rained and was chilly!) and a pod of food carts.
Pre-Race "Registration." This is the antidote to "packet pickup." Ticket sales are through Eventbrite (which conveniently sends you reminders in case you're like me and forget what you signed up to run and when and where.) Show up as early to get your ticket scanned and decorate your bib. The event bibs look the same for each event, and you can personalize them with a variety of sharpies (or even bring your own decorations). There's usually coffee, and sometimes there are pre-race snacks (I hoovered a donut at Baerlic). If you're really worried you'll get lost (you won't) there's a map you can study (or snap a pic).
The Starting Line. All the people, and dogs, and strollers head out to the big inflatable start/finish line for a quick but energetic warm-up–think squats and range of motion type of movements–and an explanation of the course. After a few group photos everyone takes off running.
The Course. Each course is a loop, making logistics easy. It's not a closed course and you're supposed to obey all of the traffic laws. This means you'll spend most of the time running on sidewalks or paved park trails, though in some areas there's basically no traffic and it's safe to run in the street. Every single corner or turn has a cheering volunteer holding a big arrow sign and giving directions. No course-markings to worry about–there's always a real person to show you the way!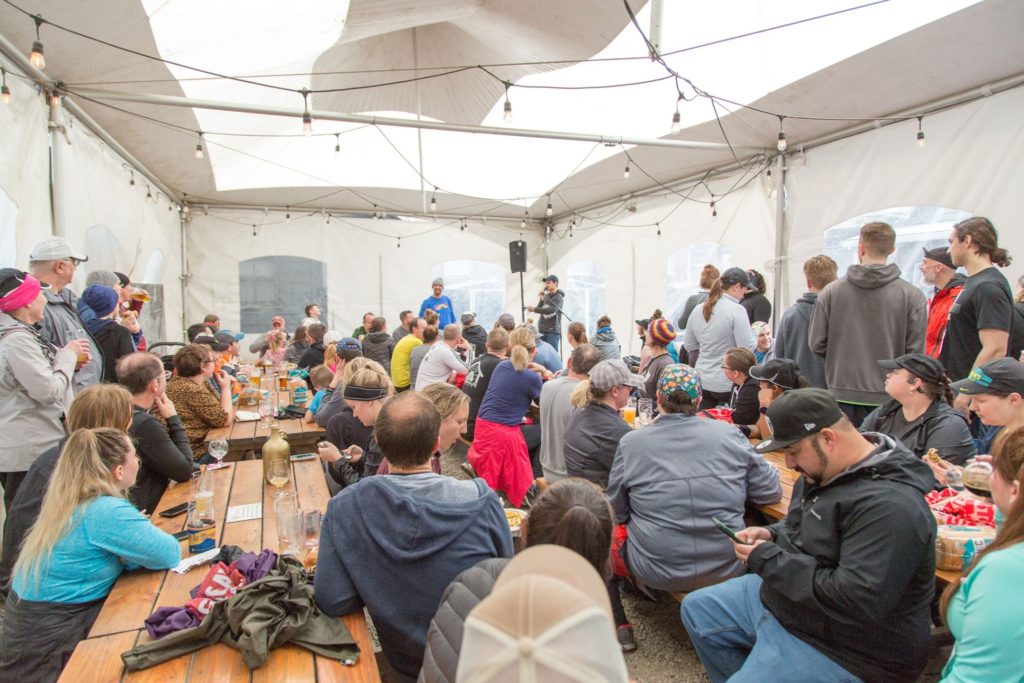 The Finish Line. The official photographers will snap more pictures as you cross the finish line. Then it's time to get your wooden nickel–redeemable for the pint of your choice–and turn in your raffle ticket. (If you want more raffle tickets, you can visit with the sponsors and vendors.) Don't forget to grab your swag –your choice of what's available that day, usually pint glasses, coffee mugs, and more–and some snacks. The Franz bakery is one of the series partners, so there's often bread or bagels to take home with you too.
The After Party. I only know one reason people run: they like to eat! Some of the breweries are brew pubs that have their own kitchen. Others host food trucks. Either way, I've never gone hungry. Some people bring their own food in–once a family did a whole birthday party! Of course there is beer for sale, too. The fastest man and women are recognized with "The Golden Growler" award, which they sign and redeem for their very own growler (contents included!). There are a few announcements, and an introduction to the charity partners for that season, then there's the raffle. There's live music too! Of course my favorite after party entertainment is petting all of the dogs, but you probably already guessed that.
Honestly, it's pretty good value for $30….but if you're smart, you bought one of the Oregon Brewery Running Series Passes. Unlike other race series, this one lets you share the races in a multi-pack. The Pint is six races ($139), The Growler is twelve ($249), and The Keg is a twenty-pack ($359). So if you got The Growler, you could run twelve races, or run six with a friend, or run one with an entourage. But really, the best way to do it is to join The Brew Crew at the beginning of the season ($279). Brew Crew members get an entry to every event, but you can't share. That shouldn't matter, as who can run all 26 events? Even if you can't (and I can't) there are other perks: a special series shirt, a second pint at every race, and four entries you can share with your friends. (So it's really $279 for 30 races–26 for you and 4 for friends!) But really, that's $10.73 per race, so even if you only run half of them, you still end up way ahead!
Not in Oregon? The Brewery Running Series exists in OTHER states too! No matter where you run, the series motto is the same: Be Active, Have Fun, Give Back.
Top Reasons to Run the Oregon Brewery Running Series
Excellent Value. Did I mention there are also free race photos? If you want to mug for the photographers they'll snap as many groupies as you like.
Everyone-Friendly Events. Speedy runner? Slow-poke walker? Stroller-pusher? Couple? Singlet? Entourage? Doggo? This is something you can do. The volunteers are out there until everyone is done.
The Beer is Optional. Yeah, I know, I'm the weirdo running the BREWERY running series who doesn't like beer, and I get two pints per run (one for the event, and a bonus for Brew Crew). So far, the venues all have tasty local cider as well. HUB usually has cider (I had one last year) but they were out this year; fortunately they also have wine on tap!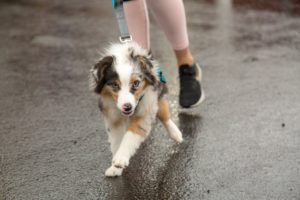 Have you attended any of the Brewery Series Runs in Oregon, or another state? Or been to a brewery run? Tell me about it!