Hey there! I'm revisiting this post  back from the earliest days of my blog–can you believe I published it on April 10, 2014??–because now it comes with a giveaway! This giveaway is not sponsored by CamelBak or Nuun.
First, The Review!
Integrity Statement: CamelBak provided me with a Relay pitcher to review back in 2014. I did not receive any other compensation for this review. All opinions are my own. All words are my own, except where otherwise indicated.
So just how much water should be consumed on a daily basis for optimal health? The consensus among health experts, in other words those who look to optimize health and not merely look at the absence of disease as a sign of health, is that there is a chronic dehydration epidemic.  Paul Chek and Steve Meyerowitz recommend one-half of an individual's body weight in ounces (90 oz. of water for someone weighing 180 lb.), while Mark Lindsay recommends 0.6 ounces times body weight in pounds (106 oz. for someone weighing 180 lb.) for achieving optimal health and mobility. Even greater fluid intake has been recommended for those individuals who are exercising and sweating profusely. While there seems to be no agreement between the researchers and the health experts, there is enough anecdotal clinical evidence to suggest that increased water consumption is warranted for achieving and maintaining tissue mobility and overall health for most individuals.
Evan Osar, Corrective Exercise Solutions to Common Hip and Shoulder Dysfunction, Lotus Publishing (2012) at 44. For National Hydration Day, I encourage you to stay hydrated!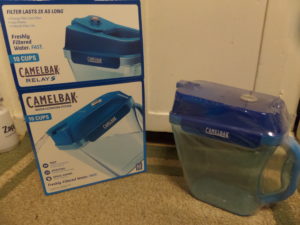 Why am I dehydrated? My main problem is that I don't like drinking room-temperature water.  I'll drink hot water (in the form of coffee, tea, cocoa, or similar beverages).  Otherwise, I only like it ice cold.  Call me an American (but at least I know not to ask for ice while abroad, okay?). I've kept a filter pitcher in the fridge since the very first ones came out, to keep my water cold and fresh-tasting. I'm also somewhat obsessed with water bottles, and have amassed a collection of about a dozen in my quest to contribute fewer disposable plastic bottles to landfills and the plastic mass floating in the Pacific Ocean.  (Despite our best garbage-sorting efforts, most plastic is not recycled. In 2019, even less plastic is recycled because China stopped accepting American plastics for recycling. Why? We suck at recycling–there were far too many dirty items, non-recyclable "wish-cyling" items, and contaminants. Since I found half a sandwich in my apartment recycling bin, along with dental floss and used kleenex, I'm not surprised.)
Until the fall 2013 Fitness Magazine Meet and Tweet event, I thought CamelBak was not a brand for me. The CamelBak I knew was a hydration pack for longer distance runners (not me) and had a bite valve (not for me). In my defense, the association makes sense, since CamelBak basically invented the hydration pack. As it turns out, CamelBak makes a pretty excellent water bottle with a filter in the bottle—the CamelBak Groove Insulation—so the water is filtered as you drink it.  The drinking spout folds, make it spill-proof, and therefore perfect for me.  My CamelBack from the Fitness event became my go-to travel bottle, since the straw-like drinking valve prevents me from spilling it on myself as I drove all over the state of California for work; I eventually lost it during my work travels. Hopefully it found a good home. The double-walled bottle design is optimal for avoiding slippery hands and water puddles caused by condensation as cool beverages warm up, but the same design prevents it from being optimal for refrigerator storage. Also, it is too small to chill enough water to keep me steadily drinking.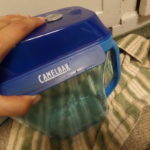 Enter CamelBak Relay. The Relay is a filtration pitcher with a 10-cup capacity, perfect for the fridge. (It fits inside the door.) CamelBak graciously offered me a Relay to test drive, and after just a week I decided to give away all of my other filtration pitchers. I'll never need them again, since CamelBak has a lifetime "Got Your Bak" warranty. By the way, now that I'm in 2019, I still only use my Camelbak.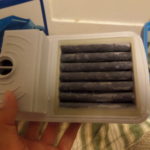 When I opened the box, my first thought was disappointment.  The filter is so huge compared to my old pitchers that I thought, "there is no way I can recommend a product that is going to generate more waste than what is already on the market."  Then I read the directions.  Oops. Turns out the filters last four months (not 30 days) with regular usage, which means it generates LESS waste than my old filters. Win! This is "double-filter technology," filtering the water first as you fill it up, and again as you pour the water out. The lid even has a built in reminder dial so you don't have to remember when to change the filter. Win!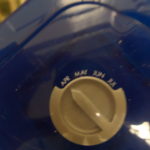 The most obvious thing to love about the Relay is that it fills up quickly. My old pitchers were very slow to filter the water, so I would end up standing at the sink as I filled the pre-filtration chamber, waited for it to filter, and then re-filled the chamber to achieve a full pitcher to put in the fridge.  Those days are over. The Relay filters the water about as quickly as I run the tap, meaning I turn on the tap and fill the pitcher—no waiting. Sure, you might be thinking this is a net savings of just five minutes per refill, but over the course of a year those five-minute periods add up to hours I could be running or sleeping!
My second favorite feature is the snap-shut lid. Despite my years in dance and yoga, you can just call me Grace in my tiny kitchen. The biggest peril with my old pitchers is that I'd pour a glass of water over ice just after filling the pitcher and knock the lid off, spilling the water in the pre-filtration chamber all over myself, the floor, the stove, and anything else nearby. With the Relay, that's impossible.  The lid has two side-locking latches that snap shut, securing the lid tightly. So even if I managed to start pouring before all the water left the pre-filtration chamber—a move that would require Speedy Gonzalez-like agility, since the chamber empties so quickly—there is no way I can accidentally turn my desire for a drink into a shower.  Bravo!
The speedy filing and secure lid were designed in response to consumer requests.  According to the press release: "CamelBak Relay is the latest example of our commitment to promote hydration while eliminating disposable bottled water," said Sally McCoy, CamelBak CEO. "We listened to our consumers' frustration with existing water filtration pitchers and solved each complaint by creating an all-around better product that filters water fast, prevents spills and fits well into refrigerators."
As a design aficionado, I also appreciate the pretty colors (and CamelBak sent me a blue one, my favorite!). I know, pretty colors shouldn't make the water taste better…but if they make me like the pitcher more, I'll want to use it more, which means I'll drink more water.  Hydration, level up.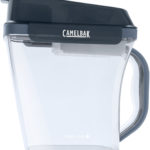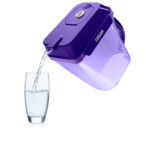 Finally, the taste. I currently live in an area with decent-tasting water but WWII-era plumbing.  According to CamelBak, "When tested to NSF/ANSI Standard 42, independent test results have shown Relay removes 97% of chlorine, taste, and odor." I have not seen the test results, but I love the taste when I pour.
You can learn more about CamelBak and buy your own Relay at http://www.camelbak.com . The Relay is also available at Target (MSRP $36.99), and at this point in 2019 I'm pretty sure you can buy it pretty much everywhere–I buy my replacement filters using Amazon Prime.
Giveaway!
In celebration of #NationalHydrationDay (no, I am not sure when that is, but I saw it in a tweet for runners, so it has to be a real holiday, right?) I am giving away a box of hydration goodies. One lucky winner will receive:
A brand new Camelbak Relay Pitcher! (In the box–but I accidentally left it in the sun, so one side is faded.)
A brand new Camelbak Fresh filter water bottle! (Not in the box–I accidentally squished it–but the plastic wrapper is still over the "straw" portion and the filter is still in the package, so you can tell it's new.)
A  suite of Nuun products (see

my review here:

Happy Nuun Year!): 1 tube of Nuun electrolytes (watermelon), 1 tube of Nuun vitamins (blueberry pomegranate), AND a limited edition Nuun water bottle celebrating the Pacific Northwest!
Samples of other hydration products (as your taste may differ from mine)
This is only open to residents of the US and Canada. Sorry everyone, this is a big ol' box, and postage is killer!