How much food do YOU waste?
Yes, I agree that "clean your plate" is a dated rule (better option: "watch how much you put on your plate in the first place"), but I'm betting that's the first thing the term "food waste" brought to mind. Most Americans likely associate food waste with at-home table scraps, or restaurant leftovers that go from plate to trash. The problem is much, much bigger than that. In August 2012, the Natural Resources Defense Council published an issue paper titled Wasted: How America is Losing Up to 40% of Its Food From Farm to Fork to Landfill. You read that right, FORTY percent. What I found most shocking is that most of that 40% has nothing to do with throwing out leftovers or not doggy-bagging your restaurant leftovers!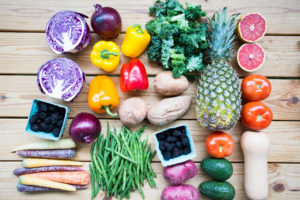 Why you care about food waste:
But forget about the doggy-bagging and leftovers, as a whopping 38% (source) or more is wasted before it even has the opportunity to be eaten! Ever wonder why all the apples, in the grocery store are about the same shape and size? Or the carrots are all straight and about the same length? It's because the nonconforming, weird-looking, too-big, too-small pieces are THROWN AWAY. It's bad for farmers–they don't get paid for the goods they grew–and it's bad for the environment and the planet.
How can YOU reduce food waste?
Easy! Buy ugly produce! In California (SF Bay Area, now rolling out neighborhood by neighborhood in LA!), and UPDATE! Oregon too! check out Imperfect Produce (scroll down to score $10 in free goods!). In Baltimore, D.C., Virginia, Philadelphia, New Jersey and the surrounding areas check out Hungry Harvest (see below for a discount code!). Both are small businesses fighting food waste AND hunger. What do they sell? Hungry Harvest calls their produce "recovered" and explains it this way:
"Recovered" produce comprises fruits and vegetables that are perfectly fine to eat, but would have otherwise been thrown away. Recovered produce is often discarded because of aesthetic imperfections (think misshapen eggplants or off-color apples) or logistical inefficiencies (when grocery stores over-order produce, they can reject truckloads, and that usually gets thrown away).
Imperfect Produce calls their produce "ugly" but wants to assure you it tastes the same:
The produce we source is rejected purely for cosmetic reasons, meaning that taste and nutrition aren't affected. Common reasons for produce being classified as "ugly" are: too small, wrong color, misshapen. We only source the most delicious fruits and vegetables, and we have strict quality-control measures in place to ensure that what ends up on your doorstep is fresh, delicious, and nutritious. If we wouldn't eat it, we won't sell it. We're redefining BEAUTY in produce, not taste! And if for whatever reason you're not satisfied with an item in your box, we will either replace it or refund the cost of the box that week.
It's a win-win-win. Farmers get paid for produce that would otherwise become garbage. You get cheaper produce that may (or may not) look funny. Both companies donate produce to fight hunger, too! It works something like this: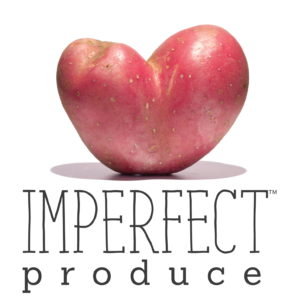 My Imperfect (Perfect!) Experience
My neighborhood's delivery day is Saturday, so I have until 3:00 Wednesday to customize my box. I get a small box of fruits and vegetables, since I travel a lot and live by myself. The basic cost (if I get whatever was assigned to the box that week) is $11-13 plus a small delivery charge ($2.99). On Monday or Tuesday I get a reminder email to check in and customize my box. (There is an option to not customize the box–surprise!–but since I'm picky I don't often use that; you can also opt for just only fruit or only vegetables.) One of the things I like is that I can decide how much of something to get, and the Imperfect site tells me why it is "imperfect" as well as where it originated. Right now, Imperfect works mostly with larger family farms in California, but they are also working to source produce from Mexico and smaller family farms. I'm really excited to see what they can do!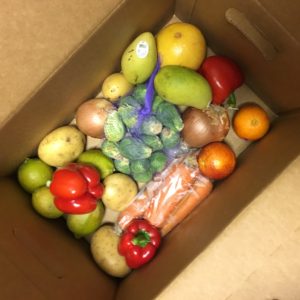 My box this week had 1 pound of organic brussels sprouts, a blood orange, 2 pounds of carrots, 1 pound of creamer potatoes, a grapefruit, 1 pound of onions, a 1/2 pound of red bell peppers, romaine lettuce, 1 pound of mangoes (rejected for being too small, I can easily hold one in my hand), and 1 pound of organic lemons. I paid just $15.39, including the delivery charge. There were a ton of other choices, too. Each box also includes the "Weekly Beet," a card that introduces a team member, gives a quick fact about one of the items offered that week (the asian pears offered the week of September 19th would have been rejected due to scarring and were grown in Kingsburg, CA), and a tasty recipe. Some of the recipes I have received are Blue Cheese and Asian Pear Tartines, Vegetarian Lettuce Wraps, Celery Root and Carrot Soup, Lebanese Pumpkin Hummus, and Fuyu Persimmon Salad. (You can find more recipes at imperfectproduce.com/recipes)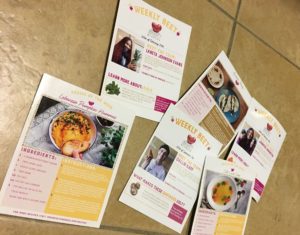 The pre-Thanksgiving box included a recipe booklet. Imperfect Produce does fun things, too. Once we got googly eyes in the box to decorate for a contest, and they recently sponsored a contest with Cape & Cowl, donating an additional five pounds of produce to the Alameda County Food Bank for every entry. I can easily set my box to "temporary stop" for vacation. I try to remember to set out my empty boxes Friday night, as Imperfect Produce can re-use them.
To score a $10 discount on Imperfect Produce: when you sign up for your first delivery, put my name (Elizabeth Bain) in the "referred by" box at checkout. (I hope you don't mind that as an Imperfect Produce customer, this gets me $10 too.)

Hungry (for a) Harvest?
Clearly, I don't live in Baltimore, D.C., Virginia, Philadelphia, New Jersey and the surrounding areas, so I'm not a Hungry Harvest customer–but if I lived there, I would be! I found Hungry Harvest on Twitter, and I'm thrilled to see there are other organizations doing the work Imperfect Produce does in other parts of the country. (I was extra excited to see they scored a deal on Shark Tank, which also helped fund some of my other favorite small businesses, including Wild Friends nut butters and Bombas socks.)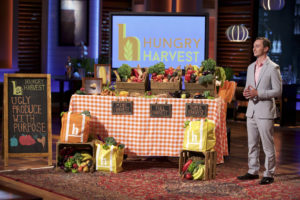 So while I don't have first-hand experience, it looks like Hungry Harvest shares pretty much all of the characteristics of Imperfect Produce. Delivery days are assigned by zip code, and there is a modest delivery charge. You can even have your produce delivered to your  office! Hungry Harvest also offers add-ons (Imperfect Produce has these on a variable basis). Add-ons include products from other food makers that could go to waste while still being perfectly good to consume: fresh baked bread, coffee, granola, peanut butter, jam, pesto, and produce staple add ons (lemons, limes, etc.).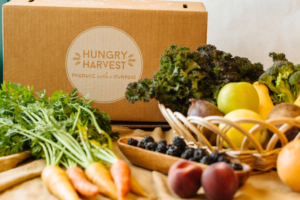 Like Imperfect Produce, Hungry Harvest sources mostly local produce but is also reaching out to prevent food from going to waste, offers organic options, allows you to customize your box (and choose a size), has easy cancellation/temporary hold, and shares recipes to use your yummy produce. For every box they deliver to a paying customer like you, Hungry Harvest donates 1-2 pounds of produce to those in need. Hungry Harvest has a unique partnership called "Produce in a SNAP," a partnership with Baltimore City Public Schools to bring fresh, affordable produce to food deserts to promote healthy eating and fight hunger. The program allows food-insecure families and individuals who could benefit from affordable produce, including those on government assistance programs such as SNAP/EBT, WIC, and SSDI, to stretch their food budgets and put nutritious produce on their dinner table. (I cribbed that from their website, because I couldn't say it better.)
Hungry Harvest can't reuse the boxes, but can pick them up for recycling if you don't have access to recycling. (No recycling? Seriously, the 1970s called and they want their wasteful environmental policies back.)
To score a discount on Hungry Harvest: enter code TRAINWITHBAIN at checkout.
Beyond Eating?
You know you can also support your local farmers' market, especially if you don't have an Imperfect Produce or Hungry Harvest nearby. (Most don't have beauty pageant standards for their produce, so the weirdos can show up there.)
You can commit to less food waste in your household: freeze small amounts of vegetables for use in soups and stews, chop and freeze that onion before it goes bad, share with a neighbor. Compost food scraps using a commercial service if available, or a backyard compost or under-sink worm bin.
Local and state laws have a HUGE impact on how much produce gets wasted. The NRDC report details a few items you might watch for and ideas to reduce food waste. These include tax breaks for farmers that donate produce instead of trashing it, laws that allow individuals to donate produce from their home gardens directly to food banks (this is huge in California, where one lemon tree can shower an entire block with lemons), and changes in food labels' use of terms like "sell by," "best by," and "use by" (currently under discussion at the federal level in the United States).
How do you save the vegetables?