Disclosure: I received an Addaday Pro Massage Roller because I am a BibRave Pro. (Per usual, all opinions are my own–you should know by now I don't need any help with that, I've got plenty of 'em!) Learn more about becoming a BibRave Pro here. Read and write race reviews at BibRave.com!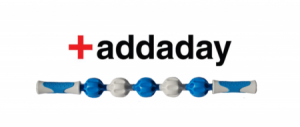 Kelly Starrett wrote, "All human beings should be able to perform basic maintenance on themselves." This is one of my favorite quotes because it is empowering–I don't need another person to take basic care of my body. Starrett knows what he's talking about, too–he has a Doctor of Physical Therapy degree, started one of the very first CrossFit boxes, founded MobilityWOD, and has trained thousands of athletes in technique and body maintenance. He's published two fantastically delicious books on taking care of soft tissue.
"All human beings should be able to perform basic maintenance on themselves" sounds pretty awesome, but if you've ever tried to give yourself a massage, or work out a deep muscle knot, you know it is a bit trickier than it sounds. It's hard to hit the right spots with consistent pressure when your arms don't bend that way. Enter the Addaday Pro Massage Roller: multiple ways to reach those muscles with just the right stuff. The right tool really makes a difference–just ask Erica at Another Half…Please?
The Pro model has five knobby things Addaday calls "gears." Each of them moves independently, so you can move the tool in more ways than you could if they were connected. Each of the four bigger gears is like an orb with scoops taken out of it. This design does several things. The website touts that it won't grab hair, but I think they're discussing leg hair there. What I noticed is that unlike a flat massage ball, the shape of these balls made my muscles feel kneaded, not just pressed on.
If you have no idea what you'd do with this tool, Addaday's got you covered. (Though Chadd over at Running for the Average Joe found the tool pretty self-explanatory.) The website has several very helpful videos with demonstrations of the various techniques in the Quick Tutorials part of the education section. When my Pro first arrived I watched all the videos and copied the techniques. If my muscles could talk, they would say, "nomnomnom!"
The Addaday Pro is lightweight and portable, but also sturdy. During the time I've been testing it, I've taken it across the country (yes, it is permitted in carry-on luggage–though some TSA people did ask me what it is, since they were curious). The compact size is definitely a plus, especially if you're working in a tight space like Laura over at Presently Running, need to roll in your car (no, not kidding–click here), or if you have a trip to Portugal planned, like Christine at Dr. Runner.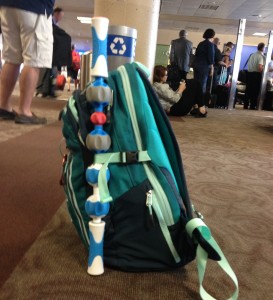 By the way, if you do carry your Addaday Pro like this, attached to your backpack, watch out for your hair. Yes, the gears don't grab hair; but the spaces in between the gears are super into ponytails. (Especially if you have long, baby-fine, straight hair like mine, apparently. Ouch!)
Most of you reading this are probably runners, and are now thinking of this as a running tool (yes, it is great to roll out your glutes and your IT band, and that little red knob is great on the bottom skinny part of your calf muscles). But look back to Dr. Starrett's quote; it's not about athletes, it says "all human beings."  You think athletes are hard on their bodies? Try driving a desk for a living!
So I've also taken my Addaday to work. Sometimes my poor body has to endure a week of sitting at those awful hotel conference tables, in chairs designed to stack well (and not designed to care for a human body). While I constantly hydrate, and take advantage of the breaks to stretch and move, there's nothing like a post-workday self-massage with the Addaday Pro.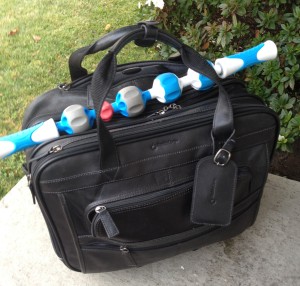 The portability of this tool makes it extra useful. Don't take my word for it, check out what Tom had to say over at Runs and Places. You can check out some other reviews by BibRave Pros Darlin' Rae, The Caffeinated Runner, The Sunny Side, and See Jess Run.
I have a stable of self-myofascial release tools, including a Tiger Tail, Knotty Tiger, Curve Ball, The Grid, The Nano, The Roll 8, and the full set of Yoga TuneUp/The Roll Model tools. Each of them has their own special place in my routine–er, when I am not being lazy and I get them out and do my mobility work–so I was skeptical about the weird-looking Addaday Pro. I'm really thankful I had the opportunity to test it out, as it has been especially helpful during my travels during the past month. If you're in the market for a tool, try this one!