Yes, I'm really about to have another birthday. (Hey, it beats the only alternative, right?) The big day is October 9th, same as John Lennon, but of course I'm going to celebrate all month–pumpkin spice all the things! Trick or Treat! The beginning of soup season! In many non-California parts of the country this is also the beginning of race season. (California doesn't really have a race season, and I'm pretty sure I could run at least one race every weekend without driving more than two miles from my house.) Naturally, I think you should celebrate my incarnation "with" me by running a race.
Invite your friends to celebrate my birthday by running a race--click here to tweet!
Click To Tweet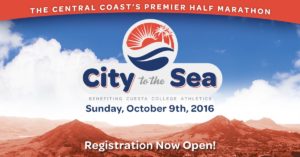 If you actually want to run in the same physical location with me, come out to City to the Sea in San Luis Obispo, where I will be running the half marathon as a BibRave Pro! This will be my first time running the race, and my first time to visit San Luis Obispo as well. The race features a mostly downhill point-to-point course, and I understand there may be breakfast tacos at the finish line. Check out all the perks and details on the race homepage. If you're feeling less adventurous–maybe you're celebrating my birthday on Saturday night?–there is also a 5k option. You can still use citytotheseabibrave to save $10 on your registration, but hurry because the race is this weekend! This is the link to online registration.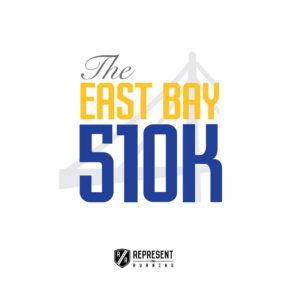 Naturally as soon as I committed to run City to the Sea, Represent Running set the East Bay 510k for the same day. This really bummed me out because this is my first year as part of the Represent Running team, and I wanted to run all of the races in person, though there is a virtual option so I can still earn the mega-bling. (Of course there is mega-bling!) It's not to late for you to sign up, however, and if you use code REPRESENT2016ER you can save a few bucks for a post-race celebratory beverage. This year there are pre-race packet pickup events in San Francisco and in the East Bay. Head over to the registration site or to the race website for more details. While you're there, think about how much you want that trifecta medal and register for next year's San Jose 408k. See you at the Mariachi Mile!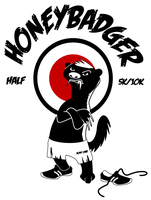 If trails are more your jam, I highly recommend checking out the Honey Badger at China Camp State Park in San Rafael. (In fact if I had not already committed to City to the Sea, I'd be out on the trails with cowbells cheering you on and pointing you in the right direction.) You can choose a half marathon, 10k, or 5k trail party. Keep your eyes peeled for the hidden woodallions along the trail because if you find one you could score a sweet prize! (Past loot has included trail shoes, cases of beverages, headgear, and running supplies.) If you're one of the first ten people to enter code BAIN, you also score $10 off your registration. All the details are over here.
Finally, however you choose to celebrate, keep an eye on the blog (or follow me on twitter) because giveaway-a-palooza continues all month. I'm a little behind on my ambitious goal to get 31 prizes up for the 31 days of October–right now you can enter to win The Long Run and Trailhead–but they are all coming. Future prizes include more books, race swag, charitable and sweet-smelling soaps, and goodies from IDEA World BlogFest and Natural Products ExpoWest.