Disclosure: I received complimentary 2XU MCS Elite Compression Tights to review because I am a BibRave Pro. (Per usual, all opinions are my own–you should know by now I don't need any help with that, I've got plenty of 'em!) Learn more about becoming a BibRave Pro here. Read and write race reviews at BibRave.com! It's a great way to choose between conflicting races, to help runners find the best races, and the help race directors improve each year.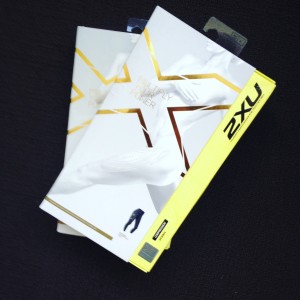 Compression! Before getting my hands on these 2XU MCS Elite Compression Tights, I had a little experience with the 2XU brand.  I had tried the 2XU compression capris (purchased at the expo for the Oakland Running Festival), and knew their products are designed in Australia, and made in Taiwan. At another race, I'd packed in a hurry and left my sleeves at home, so at the race expo (I think) I paid $40 for a pair of size M "Unisex Compression Performance Run Sleeve(s)." Sadly, the combination of the two makes me look a little bit like one of those biscuit packages after you've popped the roll and there are bits of dough poofing out on the sides.
The only other compression tights I had tried were CW-X winter-weight Stabilyx tights. I do like them, but I have a very difficult time wriggling into them (there is always much swearing and gnashing of teeth, and usually a broken fingernail or two), in part due to the stiffness of the fabric while trying to wrangle the compression web into the correct places. The 2XU MCS Elite Compression Tights are a completely different garment. If you've tried compression before, you should definitely try these. They might just rock your socks off.
WAIT. What about the science? But first, a nod to science and personal experimentation. If you've read the published studies on athletes and compression, you'll notice most of them have really unsexy names like "Mechanical compression during repeated sustained isometric muscle contractions and hyperemic recovery in healthy young males" and deal with compression and circulatory diseases. (There's a reason why doctors prescribe those awesomely beige compression stockings.) Studies on compression and athletic performance, with equally sexy titles like "Changes in Tissue Oxygen Saturation in Response to Different Calf Compression Sleeves" often reach conclusions that are difficult to apply to running. (That last study? "This study shows that wearing compression sleeves from various brands differently affects tissue oxygen saturation." Super helpful.) When user-friendly summaries are reported in fitness magazines for popular consumption, it seems like each investigation had a very specific limitation (for example, male professional cyclists on indoor bikes) or comes to a conclusion that contradicts the last one. Or both.
[On a happier note, compression for recovery seems to be a good idea–but as the latest review notes, the fairly uniform data are suspect.  See Marques-Jiminez et al. Are compression garments effective for the recovery of exercise-induced muscle damage? A systematic review with meta-analysis. Physiol Behav. 2015 Oct 29. pii: S0031-9384(15)30156-6. doi: 10.1016/j.physbeh.2015.10.027. You can read the abstract HERE.)  At least  a few BibRave Pro members, Angie and Heather, prefer compression for recovery.]
My suggestion? Get some compression gear and take it for a test run. I personally love running in compression (but don't like to wear more than calf sleeves for recovery) so I was SUPER excited to try out the 2XU MCS tights. When I put on compression tights, I feel like I'm wearing a sweet little hug all over my legs. BibRave Pro Sarah totally felt that way about these tights too. When I run, my body feels much more like an action hero, as the compression holds everything in place, close to the bones, and minimizes any jiggling or lateral movement. If you're a woman, think about the difference between running with a really good sports bra, and running with a ratty old sports bra that doesn't give you support and control.
What distinguishes these tights from others?
The first is in the name, MCS, which means "muscle containment stamping." It's a pattern of rubber-ish stuff (like uncovered elastic) stamped on the inside of the tights. (It is unrelated to the gold design on the outside.) The patterns are specific to the muscles they cover, so the stamp for the quads is different than the stamp for any other part of your legs. The 2XU site describes it like this: "MCS is a revolutionary fabric support system traced over key muscle, tendon and fascia groups to focus greater compression power to wrap precise areas and reduce muscle oscillation and damage."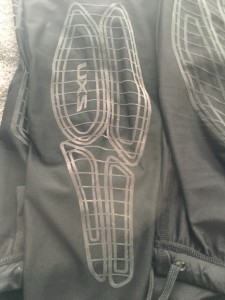 I'm all about reducing that oscillation, thanks. BibRave Pro Kim took a much better picture of the MCS than I did, also showing the tights turned inside out.
The other thing that differs from other compression is that the 2XU MCS Elite tights use two different fabrics. There is a lighter-weight technical fabric on the front, and a heavier weight one on the backside. It isn't awkward though, and I bet you wouldn't notice the difference if you picked up a pair and started to try them on, unless you started out looking for that difference.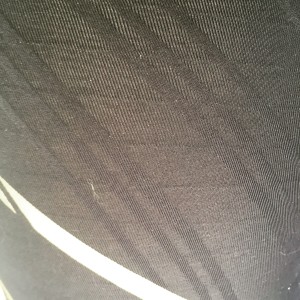 To me, these felt very lightweight. I didn't struggle to get them on, though I did take care to put the MCS pieces in their correct locations. (It's not rocket science–once you have it in your hands, it's obvious what should go where.) They felt good on my body, and other than the mini-muffintop I get from any compression wear (I'm not the only one, BibRave Pro Jenny also noticed that) I'd like to think they looked good, too (BibRave Pro Sarah pointed out that she was turning heads in 2XU, and BibRave Pro Jess felt like a superhero). It's not just about the looks, and it's not a "girls like black pants" thing–check out BibRave Pro Tom's review  or read how BibRave Pro Jeremy credits these tights with a shiny new PR.
Other features:
Graduated compression. Like medical compression garments, the 2XU MCS Elite is graduated compression. In practical terms, that means assistance with venous return (at least theoretically), as the compression helps your circulatory system work against gravity. 2XU states this also increases blood circulation for recovery and reduced muscle stiffness post-exercise.
Fabric that wicks, but doesn't stink. The fabric wicks sweat away from your body quickly. I'm a sweaty woman when I run, and was happy these never felt wet (or even damp, really!) after a half marathon. The fabric has antibacterial properties, which probably explains why it didn't stink even after I wore it for a ten-miler and then it had to wait a week to get washed. Care is the same as other tech fabrics (wash cold, no fabric softener or bleach, hang to dry). Bonus, it also has UV sun protection.
Attention to details. The waistband has a drawstring, so if you're not a natural mini-muffintop like I am, you can cinch the drawstring to get a custom fit. The seams are completely flat. No matter the humidity or other conditions, I've never had chafing. There is also a tiny pocket to hide your key when you run.
The Verdict: Invest in 2XU MCS Elite
Yes, these tights are on the pricey side–MSRP is $149.95 (Lululemon, eat your heart out). Think of this an an investment, and if you take care of them, they will last for many, many runs. (Personally, I'd rather have one really great pair of tights that lasts than several crummier ones that fall apart and need to be replaced faster.)
As I write this, these giths are on sale for $119.95. You can save 20% with the code BIBRAVE20. Psst! Pass that code on to Santa (or Hanukkah Harry, if you're like my friend Liz!), it is good until 12/31/15!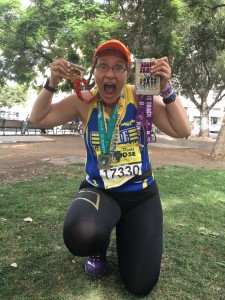 But hey, don't just take my word for it. Just about ALL of the BibRave Pro team members who tried these tights LOVED them. Katherine rocked hers at the Hot Chocolate 15k. Laura killed the North Face Endurance Challenge in hers. Brenda likes them for trail running. Read more reviews from Allison, Haley, and Samantha, or watch a video review by John (I'm not quite cool enough for video yet). A legit criticism for many athletic pants, BibRave Pro Rachel would have preferred a wider waistband, something several others noted too (see Danielle's Review).