Disclosure: I am a 2015 Nuunbassador. This post is not sponsored by Nuun in any way. The giveaway is not sponsored by Nuun. All opinions are my own. Many thanks to Briana of Mat, Miles, Medals for the image above.
December is more than half over, and the new calendar year is almost upon us. (I know, I know–I have to keep saying it to myself over and over, because I barely believe it!) I was fortunate enough to be selected to be a Nuunbassador in 2015, and it's time to celebrate that adventure coming to a close.
By the way, I decided not to reapply for 2016. That decision had nothing to do with Nuun–which I still drink all the time and am just shy of obsessed with–or my experience (it was great!). So many of my friends were really excited to apply, and really deserved a chance to represent Nuun in 2016. They wanted it SO badly! Since I already had the chance to represent Nuun, and I have my fingers crossed that I'll be chosen as an ambassador for the Detroit Marathon, I decided to step aside this year. (Hey Nuun, maybe let's get together again in 2017?) No need to be greedy, and I want to continue to do an excellent job for BibRave in 2016.
So, let's talk Nuun!
Nuun's major innovation is to separate hydration from fueling. Most sports hydration drinks are designed to do both, which is why they are filled with sugar–simple sugar can be readily broken down for use as fuel. Unfortunately, many endurance athletes find that consuming too much sugar while hydrating leads to…let's just call it unpleasant digestive side effects. Nuun decided to separate the hydration (and and accompanying electrolyte replacement) and fueling.
Nuun Active is the original, and comes in the widest variety of flavors. Nuun Active contains the optimal blend of electrolytes because you need more than sodium when running (this is why salt packets are not the best electrolyte replacement!). Nuun has sodium, calcium, potassium, and magnesium. Here's the nutrition facts and ingredients for my favorite flavor, tropical.
Some advantages to choosing Nuun Active for hydration:
light flavor
highly portable tablet format
easy to change or mix flavors
thin, non-sticky consistency
add more/less water to adjust taste and consistency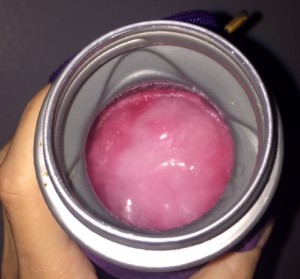 Since Nuun ships as tablets in a recyclable tube, I suspect it also has less of an environmental impact, at least on the consumer side–no water is shipped so you can move more Nuun with less fuel, and using your own bottle means no disposable plastics. Finally, while the tube is recyclable, many people wash and re-purpose the tubes.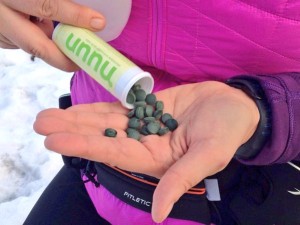 They are just the right size to carry Energy Bits, or store change for parking meters. If you travel as much as I do, you might also use the tubes to pack cotton swabs, part of a Lush bubble bath bar, or earrings.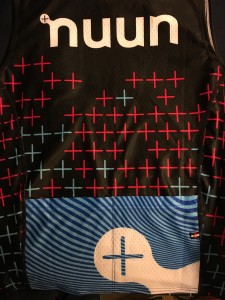 Nuun Active is what I used all year for running. (Nuunbassadors do get a product discount, but frankly the expo special is a better price so I rarely used it.) In addition to my regularly scheduled events, this year was also the first virtual run co-sponsored by Nuun (with Motigo and the website now known as FitFam). Only Nuunbassadors and Team Nuun members could participate, and the run included a cute fitted shirt and medal. Athletes representing Nuun also had the opportunity to purchase specialty Nuun apparel twice during the year. Pactimo prints the Nuun team gear, which is quality technical gear. Most of Pactimo's styles are for cycling, not running. So, for example, there weren't running tights, or singlets. I opted for a pair of cycle shorts (encouragement to go to FlyWheel more often!) and a cycling jersey. (It's got pockets on the back, so I know it wasn't made for running.)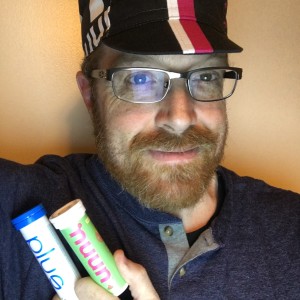 Nuun Plus is the newest Nuun invention. It contains electrolytes and sugar (dextrose and sucrose). Basically, it's a way to add the fuel into your Nuun. You can easily adjust how frequently you fuel by adding Plus to some bottles, but not to others. I haven't tried it yet, but my friends who have tried it do like it.
Nuun Energy is my favorite product, especially the cherry limeade. Like Nuun Active, it contains an optimal blend of electrolytes. Unlike Nuun Active, it also contains a B vitamin blend and caffeine. I keep a tube of the cherry limeade on my desk at work, so I have a low-calorie, less junky, option when I need an afternoon boost. (My non-Nuun choices are coffee drinks and sodas.)
Nuun All Day is a multi-vitamin disguised as Nuun! My favorite flavor is the blueberry pomegranate. The flavors are a little different, in part because the vitamin/mineral content is different. I'm not a huge fan of all of them, and as a friend of mine observed, it tastes a little "vitaminy." I like the blueberry pomegranate all by itself, but you can easily mix it with another flavor (say half tab of each) or mix it into a beverage other than water (such as iced tea).
Finally, there's U Natural. I've never tried it. U Natural is intended for use as hydration in less intense physical activities. (This is not the marathon runner blend.)
You can buy Nuun online, but buying it at your local sports or running store helps them to keep the doors open. The best price for Nuun right now is always at a race expo, where the expo special is two tubes for $10 plus a free refillable bottle.
Speaking of those bottles, I'm a bit of a water bottle junky. I came across an impressive photo of a Nuun bottle collection that essentially took up an entire kitchen cabinet. While I don't have that many Nuun bottles, I do have quite the collection of other bottles too. When I started this year, I had two Nuun bottles: one Rock 'n' Roll, and one Active. I seemed to have crummy luck, and missed all the specialty bottles–the Rock 'n' Roll Vegas, the Kara Goucher…but really, how many do I need??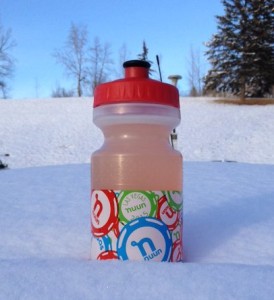 Throughout the course of the year it became clear I was going to end up with MANY more bottles, so I made a rule: I can only keep one in each design. I haven't used any of the rest of them–that's where the giveaway comes in!
I'm giving away my extra, brand-new, un-used Nuun bottles! I'll also put some Nuun samples inside for the lucky winners! Important Note: the samples are not the Nuun-factory-sealed samples. They will be untouched Nuun tablets, poured directly from the Nuun tube into a fresh snack-sized Ziploc bag. (Remember, this isn't sponsored by Nuun! Cut me some slack, since I'm paying for the product and the shipping; I'd hate to send you a tube and it turns out you hate that flavor.)