Disclosure: I'm part of the 2015 Rock 'n' Blog Team.  Each team member received a 3-pack TourPass (I used mine to upgrade to the TourPass Unlimited) and other perks in exchange for promoting the Rock 'n' Roll race series. All opinions are my own (and I've got plenty of them!).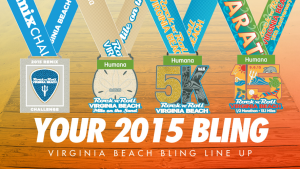 The Rock 'n' Roll Virginia Beach event celebrated a 15th birthday this weekend! It was my first time at the event, and I am very thankful to my friend Meghan (and her husband) for letting me crash at their house (thereby saving the entire cost of a hotel), and to Southwest Airlines (for having an awesome loyalty program that let me use my points for the flight to Norfolk). Even with the Tour Pass to eat the race entry fees, flights and hotels are not cheap!
Since there was a nationwide "slow down" on Friday (something about East Coast weather), my flight–like every other flight–was late. There was just enough time to drive to Meghan's and catch a nap before we were up (before the sun!) to drive over to the Mile in the Sand. As we parked at the convention center, there was a veritable downpour.
Fortunately, it only lasted a minute or two–just enough time to wet down the sand, but not long enough to make mud. (Now that I've run the event, I know I should have wished for a bit more rain.) We met up with friends and walked down to the beach. Hooray! My first time in Virginia Beach! At first glance, it actually looks quite a bit like every other beach with significant tourist traffic: boardwalk lined with hotels, with the next street up covered in casual and fast food, and shops selling t-shirts and inflatable beach toys.
It was a novelty to see the sunrise over the ocean (since I now associate sunsets with oceans) as I walked over to pick up my Mile in the Sand bib. The wind was whipping through the kiosk tents so hard that the bibs were clipped together with binder clips, and it almost took two people to wrangle one. After running from 17th to 20th to 19th for various pictures–Meghan knew all but two people running the event–everyone piled onto the sand into a single, giant corral. While there were some mile times posted in a corral-like fashion, that didn't really dictate where people ended up standing.  I'm betting this is largely due to the fact that running in the sand is an entirely different beast–making it hard for us non-sand-runners to estimate–but more on that in a moment.
The giant corral was released to the race course, a simple out-and-back, in waves. This was a great idea, as there were a ton of people on the beach, and releasing all of us at once would have given Competitor Group's insurance underwriters all fatal heart attacks. (The potential for tripping hazards was huge.) I'd put myself in the 10 minute corral, thinking it was just a mile and I could bust it out.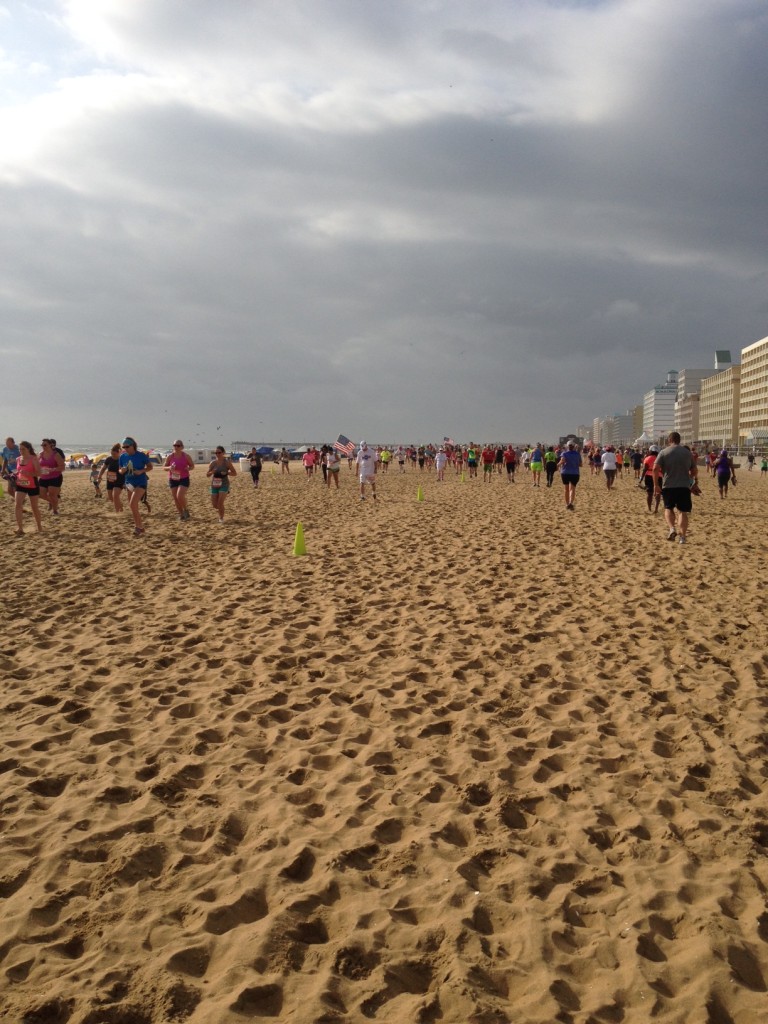 Right. So remember how I said running in the sand is an entirely different beast? Yeah… So I'd decided to run barefoot, after assurances from the locals that the beach is raked daily, and knowing in general that I hate having sand in my shoes. Tevas in one hand and the other on my head to steady the hat, I took off from the corral. I was prepared for the softness of the sand, which means you have to pick up your feet a bit more, and when you land the ground is unstable. (It had not occurred to me until I was running that the real trick is to run more on your forefoot/toes than on the midfoot and heel. Because sand.) I was not prepared for the lateral movement every time my feet landed. On the one hand I was thrilled I'd chosen not to wear running shoes–part of the structure of which is to prevent lateral movement–but on the other hand I felt like a tool for not considering movement in every plane while choosing a corral.
Another thing I failed to consider: "over-spray" sand from runners sprinting past me as the breezes came across and directed the sand into my face. This changed my breathing strategy (in through the nose, out through the nose, lips sealed tightly) which slowed me down even more. Wait, make that two other things. Since the great contact lens incident (long story) last year, I've been wearing glasses. (I miss running in my Oakleys so, so, so much.) Even with no rain and no perceptible ocean spray hitting me, my glasses accumulated a ton of salt. So much that at the end of the race it looked like I was wearing scratched Plexiglas-ses instead of clear ones. The boardwalk drinking fountains provided a convenient rinse.
While it was fun, definitely a novel experience, I was definitely over it by the time I hit the end of the mile and collected my medal (and water and chips). Then I turned back to the kiosk where I'd picked up my bib in order to pick up my beach towel. That's right, beach towel–no race shirt here. From there I returned to watch the final finishers, every last one cheered in by the staff, volunteers, and a pretty big crowd. One was a member of the local running group, the Running Turtles, and other turtles ran back to help bring her to the finish and make sure she was okay. Another was Derek, a member of Team RWB who has made it his goal to complete a 5k every month this year.
@dethomit finishes VA Beach @Humana Rock N Roll Mile in the Sand to cheers. I'm inspired #RockYourHealth #RnRVB pic.twitter.com/xeFZmfqaOk

— J Blunt (@JGBcincinnati) September 5, 2015
Pretty awesome, right? After we cheered in the finishers, we headed over to the beer garden. Rock 'n' Roll's beer sponsor, Michelob Ultra, always has one beer for each runner after the race. I don't drink beer, but I was happy to retrieve mine and hand it off to one of the Running Turtles. (Hey, it's part of my registration fee!) Dusted off my feet, put on my sandals, and we hiked back over to the Convention Center for the Expo, since I still had to pick up my bib for the half.
Per usual, pretty much no line to pick up my bib. As I wandered through the Brooks gear at the Expo, I paused to take a selfie!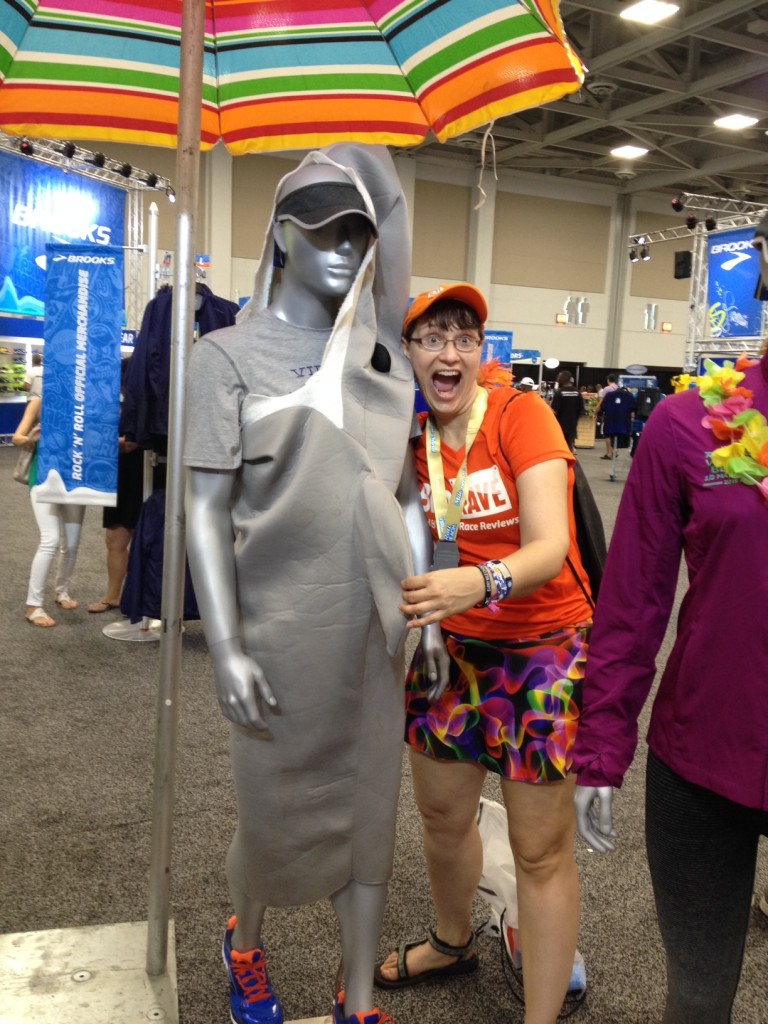 We were hungry after the mile on the sand (mainly because we got up super early and hadn't eaten breakfast), so we didn't spend too much time at the Expo. Just enough for me to stalk some shoes, snap pics for a few tweets, and buy another Buff. (I'm in love with Buff.) Then it was off to #EatAllTheFoods.
To be continued…with the Rock 'n' Roll Virginia Beach half marathon! In the meanwhile, see what Kathryn over at Dancing to Running thought of the Mile on the Sand!